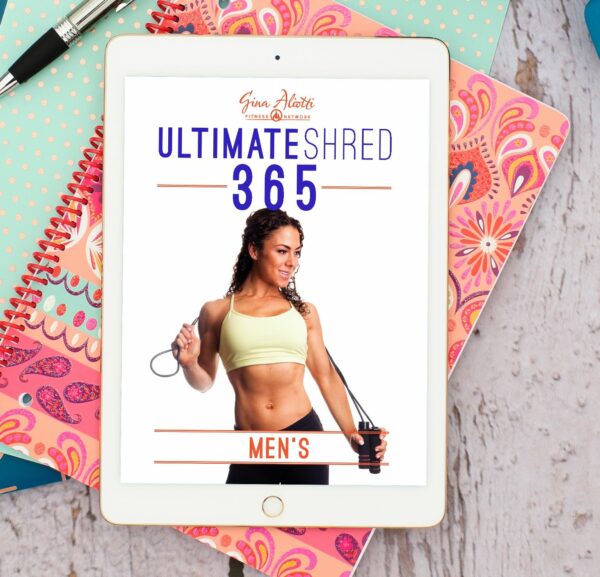 Only

$

99.00!
Ultimate Shred 365 (Men)
The Ultimate Nutrition & Training Plan for Shredding Fat
The Ultimate Shred 365 will show you EXACTLY what to eat and how to exercise for 365 days to get rid of that fat and replace it with a lean and sexy body. It's really that simple- If you follow the plan, you will SHRED FAT. There is absolutely no guessing about what you should or shouldn't do because it is all laid out for you!
Looking For the Ultimate Shred 365 for Women? Click Here.
DO WHAT'S ON THE PLAN = GET SHREDDED
Here is what you get with Ultimate Shred- 365:
What food to eat and when to eat it
Includes Gina's various delicious recipes throughout the menu
What exercises to do and when/how to do them
Includes every meal and exercise, every day, for 365 Days
Includes a NEW meal plan and training program for each month
Includes Supplements to target fat loss
Includes fat blasting cardio routine
How would you like to take all of the confusion out of shredding fat? How would you like to follow an easy plan that guarantees results? Well that's what you get from ULTIMATE SHRED- 365
What you can expect from following Ultimate Shred- 365
Gain Muscle While dropping Body Fat!
Staying Lean all year round!
Confidence through the roof!
Constant compliments on "how AMAZING you look"!
Smiling at that SEXY body in the mirror!
Long Lasting Results!
Freedom from wondering how to obtain your ideal body!
And yes, maybe even a bit of curiosity from others…
So What are you waiting for?! Start ULTIMATE SHRED-365 Today!
Check out what other people on the
Ultimate Shred 365

are saying…
Thanks for your help Gina. I lost 3 lbs the first 3 days. Now I am 7 days into the plan and have already lost 7 pounds!! I took a before pic. I want to lose about 60 lbs so I am excited 🙂 Thank You!!!

~ Bobbi

As an owner and trainer myself, loving my results!! Here are my start, 6 week and 12 week results. Couldn't be happier!!

~ Craig

Hi Gina.I just wanted to let you know that I am following the Men's ultimate shred 365 that I bought from you back in 2014 and I've noticed great results. I dropped 4kg in 6 weeks and I'm at 90kg 5.3% bf according to my home scale. Feeling great in training and on my way to a 5th marathon. I really like the fact that you built a year long plan, and that it matches the variations in training so well.  Thank you!

~ Gus Menezes
follow me on
Instagram!
@GinaAliotti
↑