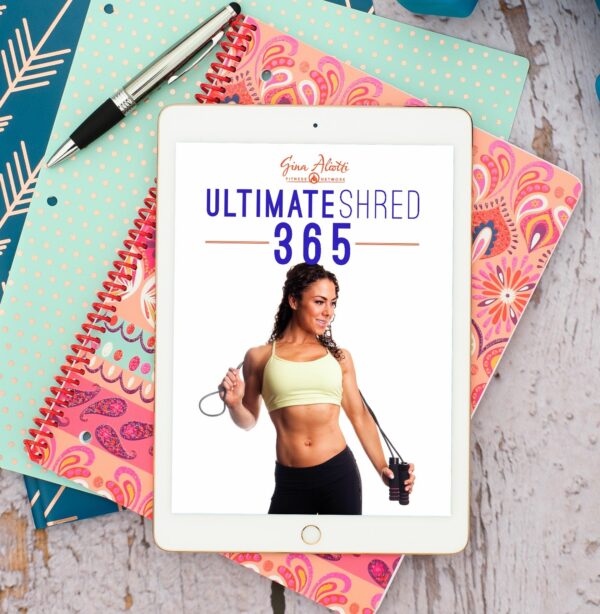 Only

$

99.00!
Ultimate Shred 365
The Ultimate Diet & Workout Plan for Shredding Fat
The Ultimate Shred 365 is your go to YEAR LONG plan that works. Formulas that have been proven to deliver results for thousands of others all over the world and will work for you too!
Take ALL the guess work out of things and show you EXACTLY what to eat, when to eat and how to exercise for 365 days. Get rid of that fat and replace it with a LEAN and SEXY body. It's really that simple-YOU FOLLOW THE PLAN, YOU WILL SHRED FAT!  The best part is, you will eat your way there! A balanced meal plan that will keep you satisfied, loving life and most of all LOVING your results!
Looking For the Ultimate Shred 365 for Men? Click Here.
JOIN MY FACEBOOK GROUP PAGE AND GET  SUPPORT FROM OTHERS WHO ARE FOLLOWING THE PLAN ALONG WITH YOU! JOIN HERE
DO WHAT'S ON THE PLAN = GET SHREDDED
Here is what you get with Ultimate Shred- 365:
What food to eat and when to eat it
Plan includes a weekly Refuel so you NEVER feel deprived!
Includes Gina's various delicious recipes throughout the menu
What exercises to do and when/how to do them (Both Home & Gym Options)
Includes every meal and exercise, every day, for 365 Days
Includes a NEW meal plan and training program for each month
Includes Food Substitution list
Includes supplement recommendations to target fat loss
Includes fat blasting cardio routine
Make 2016 YOUR Year to FINALLY SHRED FAT with my Formulas that have been PROVEN to work with thousands of others all over the world and are guaranteed to work for you too!
I've made it easy for you with an easy to follow year long plan that WILL Shred Fat AND Guarantee Results that LAST!
What you can expect from following Ultimate Shred- 365
Feeling HOT and SEXY in anything you wear!
Gain muscle while losing body fat!
Confidence like you have never had!
NEVER feeling like you are "dieting", guaranteed!
The ability to still go out and enjoy life without restrictions!
Constant compliments on "how AMAZING you look" and "what are you doing"!
Smiling at that SEXY body in the mirror!
Results that last!
Freedom from wondering what the PERFECT Formula is to get the Results you have been after!
Unlimited Support & Motivation in my online Private FB page.
and more…
So What are you waiting for?! Start ULTIMATE SHRED-365 Today!
Check out what other people on the
Ultimate Shred 365

are saying…
Here is my progress on Gina's US 365 from March 2016-July 2016. I feel SO much more confident. Thank you Gina! I couldn't have done it without your plans and amazing online family!

~ Scottie Paul

Thank you so much for creating a plan that is easy to follow and completely realistic for everyday life. I never knew it was possible to lose body fat, gain muscle and enjoy the process! I LOVE you Ultimate Shred and cannot thank you enough. It has changed my life. 50 and never felt better! No going back now. Thank you Gina!

~ Gina Taylor

Thanks for your help Gina. I lost 3 lbs the first 3 days. Now I am 7 days into the plan and have already lost 7 pounds!! I took a before pic. I want to lose about 60 lbs so I am excited :)Thank You!!!

~ Bobbi

I bought the Ultimate Shred and loving it! Already lost 3 inches from my abdomen!

~ Nike, Australia

OMG!! Almost done with my first month of the Ultimate Shredder… AND DOWN NEARLY 10 POUNDS!!!! LOVE THIS!!!! Just a few more until I reach my overall goal… my pre pregnancy weight!!! THANK YOU, THANK YOU, THANK YOU!!!!!

~ Michelle
Save even more by purchasing two Plan Packages today!
Ultimate Women's Package (Ultimate Accelerated Plan + Ultimate Shred 365)
Buy Both Ultimate eBooks (WOMEN) for
Ultimate Men's Package (Ultimate Accelerated Plan + Ultimate Shred 365)
Buy Both Ultimate eBooks (MEN) for
follow me on
Instagram!
@GinaAliotti
↑