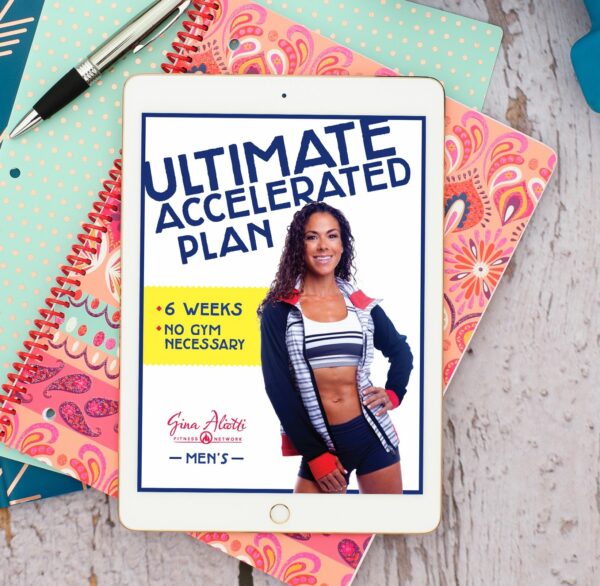 Only

$

79.00!
Ultimate Accelerated Plan (Men)
Shred body fat and get results in ONLY 6 weeks with NO Gym Necessary!
Gina's Ultimate Accelerated Plan is designed to bring you fast results in a simple and balanced way! If you follow the plan, you will change your body in ONLY 6 weeks. There is absolutely no guessing about what you should or shouldn't do because it is all laid out for you!
INCLUDES:
6 MEAL PLANS
36 CIRCUIT WORKOUTS (list format)
NOTE : This Plan is for women. If you're a woman, click here.
Do what's on the Plan = Get results, guaranteed!
Here is what you get with my Ultimate Accelerated Plan:
What to eat and when! Take the guessing out of what you "Should be eating"!
Gina's various delicious recipes throughout the plan
36 circuit workouts, NO Gym Necessary!!!
Includes every meal and full exercise plan for 6 full weeks!
Includes a NEW meal plan and training routine for each week!
Includes Gina's recommended Supplement list to target fat loss (supplements NOT included, simply Gina's recommended list)
*supplements not included just recommendations that can be purchased separately
Includes fat blasting cardio routine
Gina's Top favorite, easy to make and delicious recipes
You have an event you are gearing up for, a party to look forward to or maybe your yearly vacation to the tropics, here it is … Your plan to get you in the best shape in ONLY 6 weeks! How would you like to follow an easy, spelled out 6 week plan that guarantees results? Well that's what you get from Gina's ULTIMATE ACCELERATED PLAN.
What you can expect from following Gina's Ultimate Accelerated Plan?
Feeling hot and Confident in 6 weeks or less!
Finally seeing that Dream body in the mirror!
Results you will maintain beyond the 6 week plan!
Tools to carry with you forever! Bye Bye "diets"!
Freedom from wondering how you are going to fit into your bikini for your summer vacation!
And yes, a go to plan for you to follow when you need to turn things up for a special event or party!
So What are you waiting for?! Get started on my ULTIMATE ACCELERATED PLAN Today!
Check out what other people on the
Ultimate Accelerated Plan

are saying…
"I lost 7 pounds in just the first 2 weeks!! This is the first time I have dropped below 187 in my Adult life and feel GREAT!"

~ Vince L.

Gina's UAP is incredible! The plan is not impossible to follow, even with kids and a job! I can't wait to see the next 3 weeks! Then Gina's Ultimate Shred 365 plan! Loving being lean!

~ Tony Rabbito

I recently completed the 6 week meal program for men with great results went from 243 lbs to 220, waist from 40 in to 36 and 31% body fat to 25%…thank you so very much!!!

~ D. Sanders
Save even more by purchasing two Plan Packages today!
Ultimate Men's Package (Ultimate Accelerated Plan + Ultimate Shred 365)
Buy Both Ultimate eBooks (MEN) for
follow me on
Instagram!
@GinaAliotti
↑