Game Day Tips & Roasted Pepper Black Bean Dip
It's Super Bowl weekend and time to root for your favorite team and join the national party. Game Day doesn't have to be a diet disaster, if you know what you are doing…  I want to offer simple tips for a healthy game-day bash that wont set you back. . 

Here are a few of my Before, During and After game day tips.

Before the big game:
* Exercise before heading out to the party. If it's your Day Off, give me 100 Squats just because you are Game.  You will feel amazing and kick off that metabolism to help burn off any extra food you may indulge in. (not talking to those of you rocking my Breakthrough Plan) I know you will have your pre-made meals ready to rock so you wont fumble.

* Have a good breakfast that morning so you won't be starving and tempted to over indulge during the game. A Bowl of oatmeal and protein shake is a perfect way to start your game day.

* Eat before you head out the door! You never want to enter a party starving. When you do, it is more likely that you will find yourself digging into the chip bowl. Have a protein shake before you head out the door.

* Always bring some lighter dish like a grilled veggie platter or healthy dip, so you know you will have a clean side to munch on!
*If you're throwing the party, serve some healthy choices along with other options so that everyone has something to pick from. My favorites are grilled veggies, a shrimp platter, hummus or black bean dip (check out my recipe below)  and veggie sticks, lox, nuts, guacamole and healthy crackers or baked chips. Check out my healthy Roasted Red Pepper Black Bean dip as a great dip to serve or bring to a party.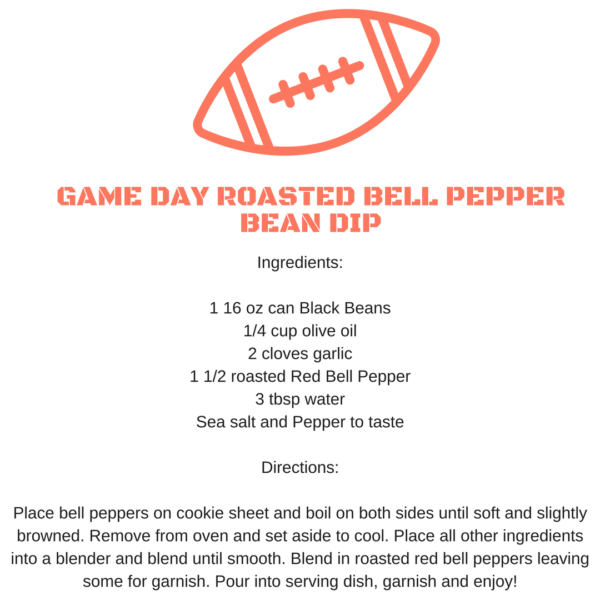 During the game:
* Challenge your fellow party goers. Every time your least favorite team scores a touch down, do 10 push ups.— people will love this (or maybe not… but you can try).

* Make sure your water bottle is close by. Have a sip every time a pass or a first down is completed.

* Make good choices – look for grilled not fried lean proteins like fish or chicken. Load up on those FREE veggies!

* Come PREPARED with extra "clean food". You never know how long the game will last or how long the party will continue after the game! Bring a bag of almonds and protein powder you can easily mix with water.
*Ditch the Beer. There are bound to be alcoholic beverages being offered, best is to stick with clear cocktails such as Vodka and soda water ( Le Croix is my favorite mixer) or a glass of wine. It is best to avoid premade drink mixes which are loaded with unnecessary calories and sugars. No matter if you choose to have a a cocktail or not, you want to be sure to drink plenty of water throughout the day. Aim for at least 3/4 of a gallon on game day!

The next day:
* Even if you splurged a little, get back on track with your healthy eating and exercise plan. My 7 Day Body Blast is the perfect plan to kick start your week and detox from any game day extras. 7 Days, I will have you right back on track! (use "gameday" for 20% off)
* Commit to your post day workout. Add it to your calendar and commit yourself. Lay out your clothes the night before and make no excuses. Log into the VIP for our daily Circuit Workout.
*Pre-make your meals to take with you to work so you can jump right back on track.

It is completely possible to enjoy a healthy Super Bowl while staying on YOUR game. 

Enjoy the Game!

My Signature Red Pepper Black Bean Dip is a crowd pleaser. Hope you enjoy it as much as me and my family do! 🙂
Ingredients:
1 16 oz can Black Beans
1/4 cup olive oil
2 cloves garlic
1 1/2 roasted Red Bell Pepper
3 tbsp water
Sea salt and Pepper to taste
Directions:
Place bell peppers on cookie sheet and boil on both sides until soft and slightly browned. Remove from oven and set aside to cool. Place all other ingredients into a blender and blend until smooth. Blend in roasted red bell peppers leaving some for garnish. Pour into serving dish, garnish and enjoy!

Nutritional Information:
(serving size: 1/4 cup)
Calories: 105 calories
Fat: 7 grams
Saturated Fat: 1 gram
Carbohydrates: 8 grams (5 net carbs)
Fiber: 3 grams
Sugar: <.5 grams
Protein: 3 grams
Get 20% OFF my 7 Day Body Blast using "gameday" at checkout.