Only

$

34.99!
The 7 Day Body Blast
Boost Metabolism–Burn Body Fat–Detoxify Your System — Banish Belly Bloat
in ONLY 7 Days
NO GYM Necessary!
Blast Body Fat and Kick Start  your weight loss goals in ONLY 7 days
Feeling bored or stuck in a plateau? Maybe had a long weekend or preparing for a vacation or event… The 7 Day Body Blast will kick start your system, get your body in the FAT BURNING zone, speed up your metabolism and detox your system!  It doesn't matter where you are in your fitness journey or what your fitness level, The 7 Day Body Blast will Work! Not only will you see changes but you will Feel incredible!
The plan is simple! Each meal is specifically laid out, easy to follow, requires minimal cooking, is naturally Gluten Free. The plan offers variety and recipe suggestions so you never get bored with your meals!  If you want to keep it simple, perfect! If you want to be more creative and try some of the recipes, perfect! Either way, you can make the plan work for you and your busy life.
Follow the plan and Blast Fat in

ONLY 7 Days

GUARANTEED
What can I expect with the 7 Day Body Blast?
My Personal tips on how to prepare yourself for short and long term success
7 Pointers for success beyond the 7 days
7 G-Fit Tips that WORK
7 Super foods to BLAST Fat and Keep it Off
7 Kitchen Essentials to make your life and food prep EASY
7 Day Body Blast Grocery List
The 7 Day Body Blast Meal Plan
The 7 Day Body Blast Circuit Workouts (with photos)
The 7 Day Body Blast Recommended Supplements to BLAST Fat
The 7 Day Body Blast Cardio Fat Burning Program
7 Oil Free Salad Dressing Recipes
My other signature simple recipes to keep the plan Fun and YUMMY!
NOTE: This plan was designed for WOMEN of all walks of life. If you follow the plan, you WILL BURN FAT in ONLY 7 Days!
Note: This is a digital download. Nothing is MAILED to you. You CAN download to all of your devices.  You will receive a link to download your plan immediately after purchasing. 

Check out what others have said about The 7-Day Body Blast...
Omg Gina Aliotti what kinda voodoo is this??? I realize it's just loss of bloating but come on. i am on day 3 of your 7 Day Body Blast and see such a difference!! Yipee!!!! Thank you!!

~ Asa Thompson

Here are my results from the 7 Day Body Blast. I am extremely happy with my results, thank you Gina! I would highly recommend trying this plan! Boarding my plane to paradise now. Thank you Gina!

~ Anna Linder

Hi Gina! I did your 7 day body blast and absolutely loved it! Although I don't feel the pictures show much of a difference, the scale is down by 5lbs. I feel awesome, energetic and healthy. I am 54 years old and find it extremely difficult to even lose one pound on the scale as I do believe menopause is a killer on the waist line – so the fact that the scale moved by 5 lbs is extremely exciting!!! Your plan was very easy to follow and I never felt hungry. I am actually going to continue with this plan.  I must also state the Devotion Protein and Flex Flavors are a gift from heaven! These products truly make eating clean super easy! My goal is to get leaner and tighter and to be in the best shape of my life in my 50's and for the rest of my life. Thank you for designing this great program and products! You and Dana are true inspirations! Love you girls!!!  Hugs and kisses!

~ Liz T.

"I'm so happy with the results of your program… 7 amazing days!!!! I lost 4.4 pounds and 1.4% body fat and increase 0.9% muscle. What a perfect detox program to kick start your Ultimate Accelerated Plan or US365 or for those who just need to lose a few pounds… I just have to say that you are THE BEST!!!!!  Loved it!"

~ Yuliana Gomez

"I LOVED Gina's 7 Day Body Burn Plan. I was feeling stuck and in a rut and this was just what I needed. When I started the plan, I immediately felt my mojo come back. I LOVED the structure of the meals and yummy recipes!  Within days, I felt more energy and overall sense of confidence. I started seeing by belly bloat go down, within days. I lost a total of 2.7 pounds in 7 days. I LOVED the plan! It was a perfect way to kick start my goals and get me back in the zone!"

~ Michelle James

"When Gina came out with her 7 Day Body Blast, I had to try it! I loved it just like all her other plans. Extremely easy to follow and all the meals are so flavorful. With the fun and yummy recipes and options, I never felt like I was being restricted.
The cilantro lime chili burger was my favorite and such a nice treat. I loved the plan! Thank you Gina!"

~ Shari Brown

"The 7 day Body Blast was a great jump start for me.  I was in a bit of a rut and needed a little kick in the pants to get ready for a bathing suit wearing vacation.  The plan did the trick.  It was extremely easy to follow.  Unlike Gina's other plans where there is more flexibility, this plan is meant to be followed tighter- which sounds rigid but I really liked it! It was nice to have all the thought taken out of it.  I just followed the plan and it even had the recipes right on the plan- literally no thinking required- which I appreciated.  I lost a couple of pounds, shed some excess water, and generally felt detoxified!  A great way to kick off some healthy lifestyle plans and re-invigorate me !  Loved it completely."

~ Tracy Rogers

I started Gina's 7 Day Body Blast at 201.4 pounds, cheated a few times (not going to lie) and still ended at 194 pounds. That is 7.4 pounds in ONLY 7 Days!! Thank you for your 7 day plan! It was just what I needed to to figure things out and get back on track!! Loved it!

~ Sheri Horn

Doing the 7 Day Body Blast and am in LOVE. I LOVE the recipes, especially the Cilantro Lime Turkey Burgers. I wanted to eat them all, seriously! If you haven't tried this plan or this recipe, I highly recommend it. SUPER easy to follow too! Loved it!! Thank you Gina!

~ Andrea Nicole

The 7DBB is my 911 call. Down 7 1/2 pounds in 7 days with the 7DBB. LOVE IT!

~ Patricia Clifford
Get the Full Fat Burning Bundle and SAVE!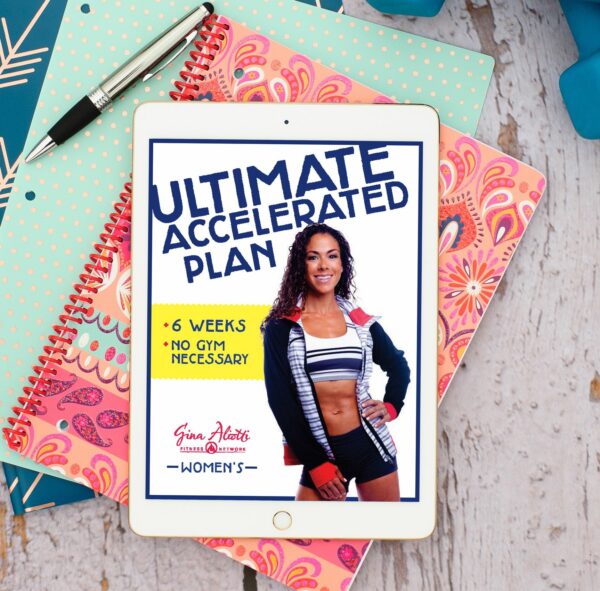 6 week UAP- Ultimate Accelerated Plan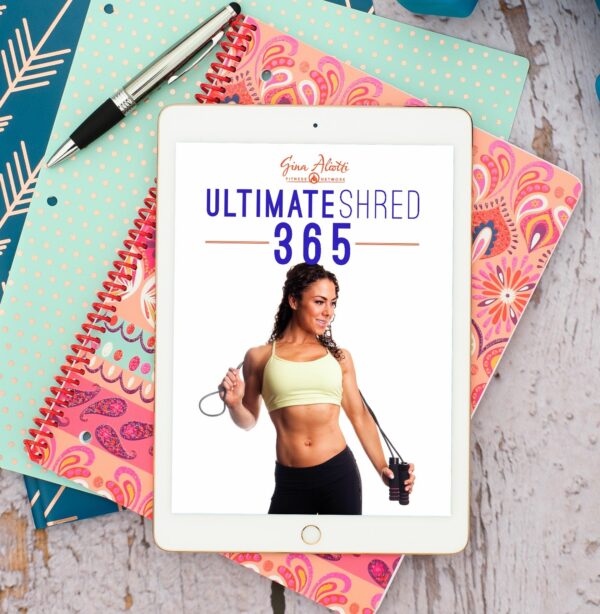 Ultimate Shred 365