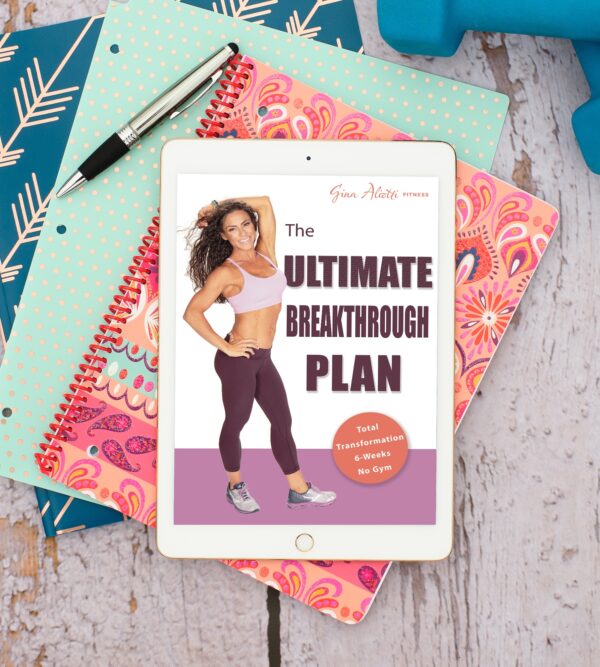 Only

$

99.00!
Ultimate Breakthrough Plan
6-WEEK TOTAL BODY & MIND TRANSFORMATION
Breaking bad habits and thought patterns constitutes one of the most difficult­ – but also most defining–steps you MUST take in order to reach your fitness goals. Unfortunately, most people fail in this regard because they just do not know how.
It's like they say: "If it were easy, everyone would do it."
As a TOP figure competitor, I understand what it is like to struggle against your own mind when trying to stick to a diet, and as a mother, I know the feeling of not having the time nor finding energy to get to the gym for a workout. I get it, which is why I developed a plan to address precisely those issues – a plan that is all about finally breaking through those barriers that hold you back from achieving your dream body!
Have you tried countless fad diets that leave you feeling frustrated and hopeless?
Do you feel like a prisoner to your old habits and/or negative thought patterns?
Does it seem impossible to change your ways no matter how hard you try?
Are you sick of feeling defeated by your own barriers and ready to crush your fitness goals ….without setbacks?
Sounds familiar…? If it does, now is time to say goodbye to all that has been holding you back and hello to the ultimate solution: The Ultimate Breakthrough Plan!
You will…
Maximize your results with powerful CARDIO & STRENGTH routines
Get in shape with TIME-SAVING WORKOUTS you can do ANYWHERE
Learn PROVEN and easy-to-follow techniques to get and STAY LEAN
Get all the SIMPLE secrets and tricks that will ensure LASTING RESULTS
Transform your BODY and MIND in only 6 weeks
Find out how you can finally STOP dieting and START living!
BREAK FREE from the mental and physical barriers that have sabotaged your success in the past
How do I know the plan will work for me?
I can promise you this – if you have the willpower to change, I will give you the tools to succeed. In fact, I GUARANTEE that if you follow the plan, you will change your mindset AND body in just 6 weeks.
If you are looking for a REAL way to BREAK FREE from detrimental patterns and become the BEST VERSION of yourself, then this program is for YOU.
Here is a glimpse of what you get with The Ultimate Breakthrough Plan:
6-Week Home Workout Plan with 15 Circuit Workouts + 6 Bonus Workouts with full real time videos including modifications and demonstrations
6-Week Ultimate Breakthrough Cardio Routine to accelerate fat loss and amp up your endurance
6-Week Daily Meal Plan that will take the guesswork out of what you should be eating and when
Tasty Recipes that are compatible with the rest of the menu
Flexible Menu with food swaps and options throughout each week
Tips & Tricks for dining out that will help you live a balanced life
BONUS!
Ultimate Breakthrough Recipe Collection with lots of delicious, healthy meals to satisfy your taste buds while keeping you on track. (..and YES donuts are part of the plan!)
Gina's Non-Negotiable Habits that will transform your body, mind and life
Gina's 8 Favorite Seasoning Blends to spice up your life (and your meals!)
…. and SO much more!
Check out what other people on the
Ultimate Breakthrough Plan

are saying…
I had the most incredible results on The Breakthrough Plan. The best part is never felt hungry, miserable and completely in control. I lots a total of 11.5 pounds and inches all over. My waist and hips both went down 2 1/4 inches and thighs 2 inches each. Thank you Gina, I am so happy with my results!

~ Tricia Boyer

I'm on week 5 of the breakthrough and I love it. I can't wait to share my success with you! Thank you !

~ Tina E.

Gina, Oh my gosh I LOVE your Ultimate Breakthrough Plan. I loved your UAP and you outdid yourself with this new plan. It is so easy to follow, love the exchange lists on each weeks diet and the recipes are amazing! This is definitely my favorite plan, not to mention my results are awesome! Thank you for all you do!

~ Sara Hickory

Just purchased my UBP! So excited!! Gina Aliotti you killed it on this one!! So much amazing information! One of my New Years goals is to quiet outside noise and ONLY turn to my plan and VIP. I even took it a step further and got rid of lots of "extra" reading material that tends to make me second guess my health/Fitness journey. Amazing Plan!!

~ Lauren Decker

"I am so happy with my results. In 6 weeks, I dropped 15# drop and 17 inches all over. Bloating started to subside right away. I am so happy with my results. Thank you Gina!"

~ Cassandra Lee Mough

My Bloat is reducing so much this week! First week and down 3 lbs!!!

~ Shannon Leslie Barnes

Loving this New Program– already down 4 pounds and energy thru the roof!!!!!

~ Sandy Molon

Okay, seriously, squeel!! I'm looking thru the plan and I can't imagine how the food prep wont be a breeze!

~ Lisa O'Bryan-Basquez

Progress after 1 week on the Breakthrough Plan. Meals on point and doing my best with the workouts and I am still down 7.6 pounds and 5.6 inches overall! Feeling excited!!!

~ Cassandra Lee Mough

Week 1 vs Week 2. I am Thrilled! Almost 2 inches off my core!!!

~ Shannon Leslie Barnes

After 2 round of the Breakthrough Plan, I cannot tell you how amazing I feel. Thank you Gina for making this SO easy! Mom of 6 needs things to be easy so thank you! I feel like I have ME back!

~ Tricia Boyer

"This is from the start of being apart of Gina's VIP. For the first time since I started this journey I actually FEEL happy, accomplished & proud. No short term quick fixes, under eating or fat burners. Hard work, consistency, and determination!! It's not easy, it's not meant to be easy! Everything in life that pushes us has a reason behind it. I never understood that until recently because now that I fell down so many times and picked myself up I feel truely proud this time around . I didn't quit, I took my failures and used them to motivate me. Trust in yourself , trust the process! When you commit to a program GIVE IT YOUR ALL. There isn't ONE set meal plan or routine that is MAGIC it's about the effort you out into it. Drop the lies you tell yourself about why you can't do this. Find a reason and start NOW!! ❤❤❤"

~ Shannon Barnes

Breakthrough 6 Week Challenge complete! I lost 7 lbs and feel like I see the most changes in my tummy/flank area. I do not want to lose more weight but I definitely want to continue to lean out and build more muscle definition! I'm going to continue with the Ultimate Shred 365 and continue to DIG DEEP! (I hope this is the best program to follow) I turn 59 next month and with the support and encouragement I get from this great group of awesome women I know I can achieve my goals! Thanks Gina for your amazing programs!

Nancy Cook

~ Nancy Cook

"Just like every other plan I've done of Gina's, it's on point. Each workout brings something new! Struggling but loving it!" 6 weeks PP baby 3 🙂

~ Jeanette Edwards

"I cannot believe what the UBP can do if you just follow the plan and drink your water. I've honestly gotten two workouts in and look at these results!! My "hangover" as I call it, is almost gone. If I do one more round after this, I think I may actually look good enough for a bikini this summer! Love it!"

~ Brittany Kay

Lost 8.2 Pounds and 9 inches all over, I will take it!

~ Lyn Hickman Pardoe

Here is my 3 week progress pics (no filter) on the Ultimate Breakthrough Plan. SO happy to see it's working!!

~ Carrie Price

So I am one happy girl today… I was taking my progress photos and noticed that my workout pants are getting loose!!! So excited it's time to upgrade my wardrobe wahoo!! Not only do Gina's plans give you amazeboats results but also a great excuse to go shopping. Thanks Gina!!

~ Alethea Carswell

~ Anita Miller

My breakthrough is letting go of perfection, I started out the year working on this for myself in 2020.  I have been working on letting go of perfection in my personal and professional life, as it hasn't been serving me well. I have learned to give myself grace, if my day didn't go as planned due to feeling sick from hormones or life threw me a curve ball to roll with it the best I can for that day whether it be grabbing a Gina approved snack or resting to listen to my body and making up cardio/workouts the next day and throughout the week. Learning to be ok with that has been such a breakthrough for me, I have found that as long as I was eating for purpose every day. That kept me on track and is 90% of me reaching my goal. My word for the rest of my life is consistency, I will never again not be consistent with my meals and workouts. I have learned just how important consistency is. LOVE this Plan!

~ Kelly G.
Save by purchasing purchasing multiple plans...
follow me on
Instagram!
@GinaAliotti
↑