Gina's Pecan Pumpkin Spice Bars
Gina's Pecan Pumpkin Spice Bars
Fall is in the air and you know what that means, pumpkins are making their comeback! I eat pumpkins year round but with fall in the air, I have been inspired to try new recipes! These Pecan Pumpkin Spice Bars came out delicious and have the perfect nutritional breakdown of only 175 calories per bar! They make for the perfect anytime snack or pre workout energy source! These bars are loaded with vitamins, minerals, good fats yet are very low in carbohydrates and gluten free, making them perfect for a low carb and gluten free diet. With school starting back up, they also make for the perfect kid friendly afternoon snack! Give these a try and I hope you enjoy them as much as my family does!!
Fall Pecan Pumpkin Spice Bars
Serving Size: 12 bars
Ingredients:
2 cups pure pumpkin puree
1 cup almond meal
2/3 cup coconut flour
¼ cup water
3 scoops vanilla protein powder (Devotion Nutrition Angel Food)
1/2 cup stevia
1 tablespoon pumpkin spice
1 1/2 teaspoon cinnamon
2 teaspoons vanilla
½ teaspoon salt
½ teaspoon baking soda
4 egg whites
½ cup pecans (or walnuts)
Frosting:
3 scoops Vanilla Protein Powder (Devotion Nutrition Angel Food)
2 tsp vanilla extract
1/2 tsp pumpkin spice
½ cup water
Directions (Bars):
1. Preheat oven to 350. Spray a casserole dish with non stick spray.
2. In a large bowl, beat pumpkin and eggs until fluffy.
3. Beat in the remaining ingredients until fully combined.
4. Scoop batter into casserole dish and bake for 30-35 minutes or until fully cooked.
5. Allow to cool then spread Pumpkin Spice Icing over top and Enjoy!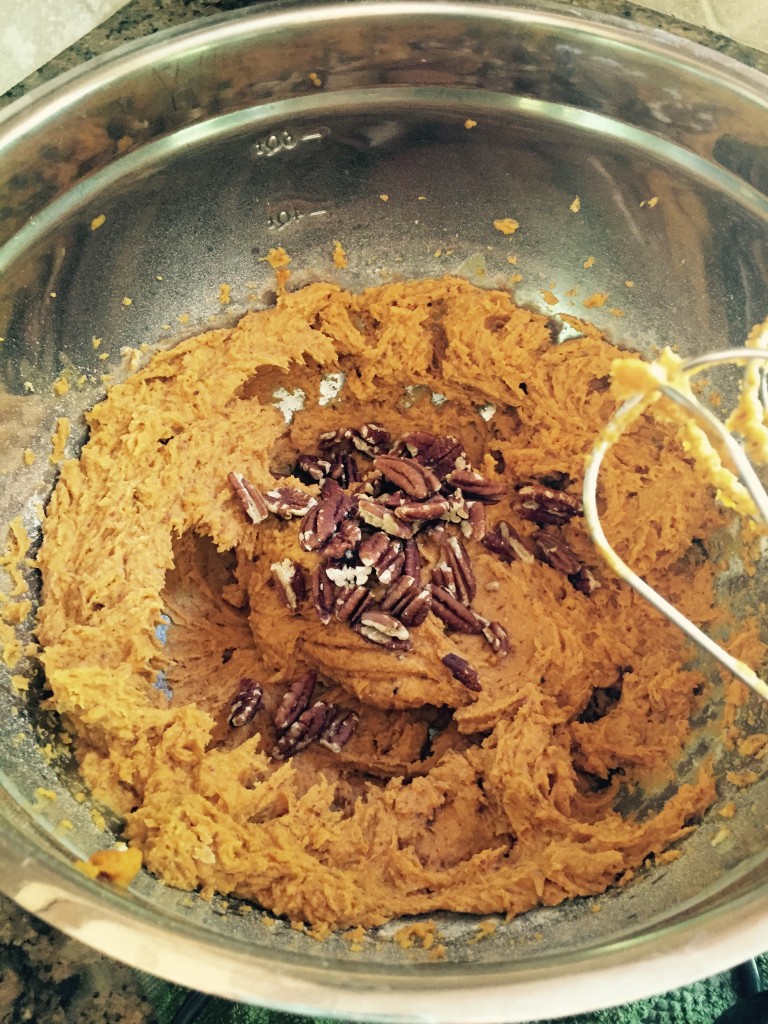 Directions (Icing):
1. Place all ingredients in a bowl, mix until smooth then set aside until ready to spread over top when cooled .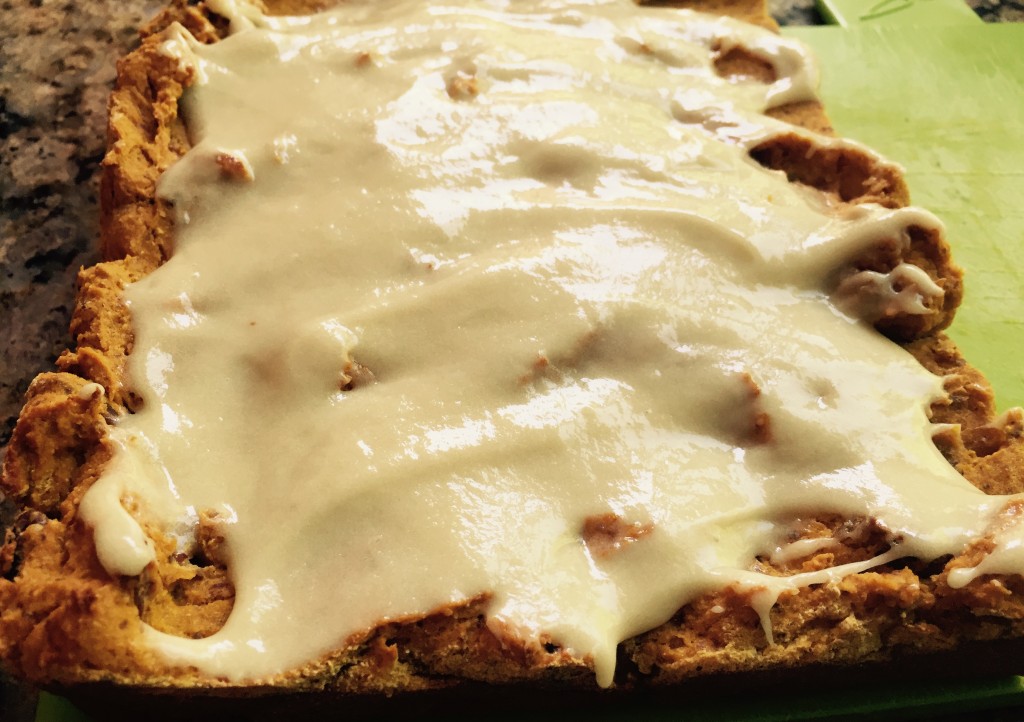 Nutritional Information:
Serving Size: 12 Bars
Calories: 175
Fat: 9.5 grams
Saturated fat : 1.5 grams
Carbohydrates: 11.5 grams
Fiber: 3 grams
sugar : 3 grams
protein: 15.5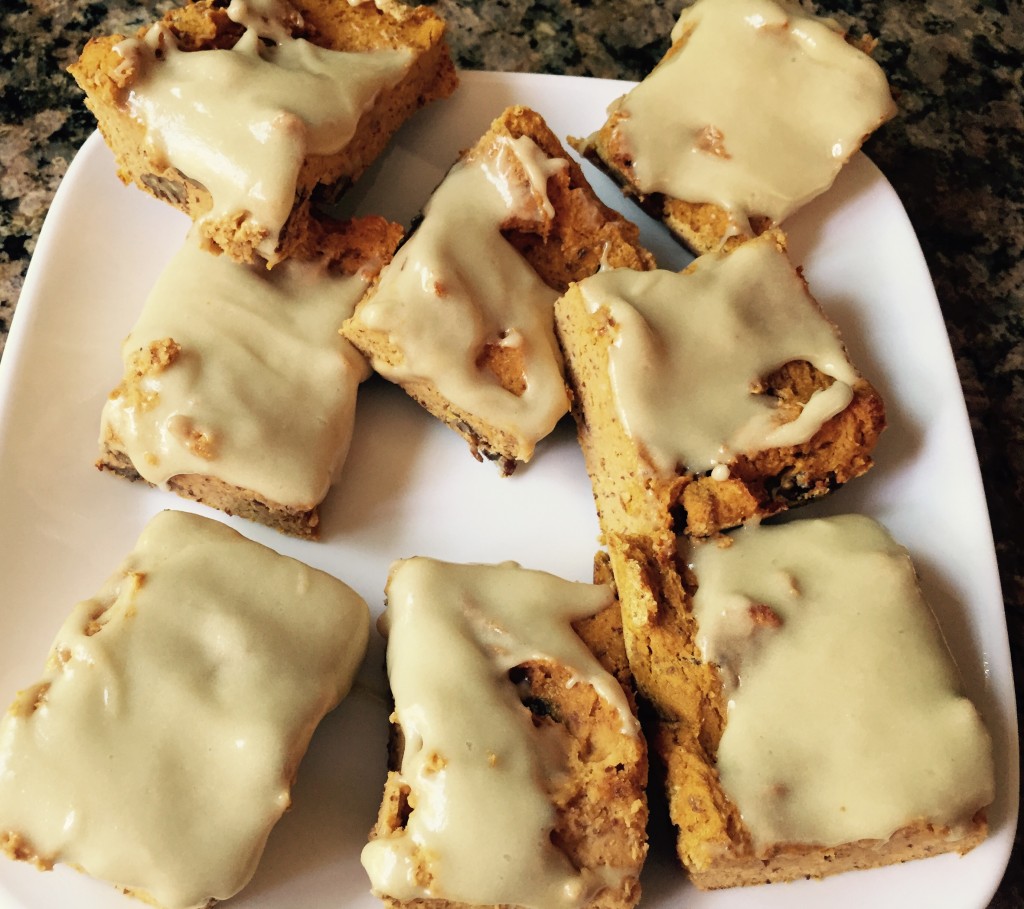 FOR MORE AMAZING RECIPES TO HELP YOU REACH YOUR GOALS IN A YUMMY AND DELICIOUS WAY, CLICK HERE!