Ingredients:
-1 C Almond Flour
-2 TBSP Coconut oil
-2 TBSP Sugar Free Maple Syrup
-1/2 Tsp sea salt
-1 C Lily's Stevia Dark Chocolate Chips
-2 Tsp Coconut oil
-1 Tsp Vanilla extract
-12 Tsp Peanut Butter ( I used Legendary Foods Peanut Butter Cup)
Directions: 
Preheat oven to 350°F.
Add almond flour, coconut oil, syrup, vanilla and sea salt in a medium bowl. Scoop dough using a tablespoon and form into a round cookie shape, use your finger to create a small dent in the center of each cookie. Place cookies on a parchment or foil lined baking sheet for 15-18 minutes, until cookies are slightly golden brown on the bottom. Let cool completely on the cookie sheet.
Once cookies have cooled, add 1 teaspoon of peanut butter into the dent of each cookie and spread it a little over the top. Place cookies in the fridge or freezer for about 15-30 minutes to let the peanut butter harden up a bit.
Melt chocolate chips and coconut oil in the microwave. Add the chips and coconut oil to a microwave safe bowl and heat for 1 minute, stir and heat in 30 second increments until chocolate has melted.
The peanut butter should be chilled at this point so you can remove cookies from the fridge/freezer and dip each into the melted chocolate, one by one.  Place back on the baking sheet lined and place the chocolate covered cookies in the fridge or freezer for about 15-20 minutes to let chocolate set.
Enjoy right away and store any leftovers in the fridge until ready to eat. ENJOY!
Can be subbed for any Fat Swap on any of my PLANS. 
12 servings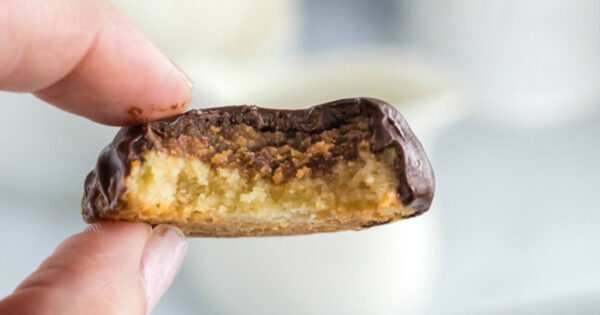 Nutrition Facts
Calories: 75
Fat: 7 g
Saturated fat: 3 g
Carbs: 2 g
Fiber: 1 g
Net Carbs: 1 g
Sugars: 1 g
Protein: 2 g