Pumpkin Recipe Book
It's that time of year again when Pumpkins seem to be everywhere I look. So I want to make the most of this pumpkin season and dive into the many health benefits of including pumpkin in our diets.
I have a pumpkin option on all of my Fitness Programs because I've come to learn how nutritious and delicious it can be. Pumpkin not only tastes pretty good but it also has tons of fiber. It keeps your tummy full and your hands away from the candy dish…
Check out my FREE Pumpkin Recipe Book by clicking the photo below.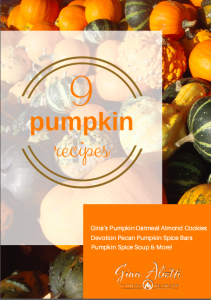 If you have any of your own pumpkin recipes please share them on Instagram and tag me @ginaaliotti and #ginaaliottirecipes. I would love to see what creations you come up with!!
Happy Pumpkin Season!!
xoxo
Gina