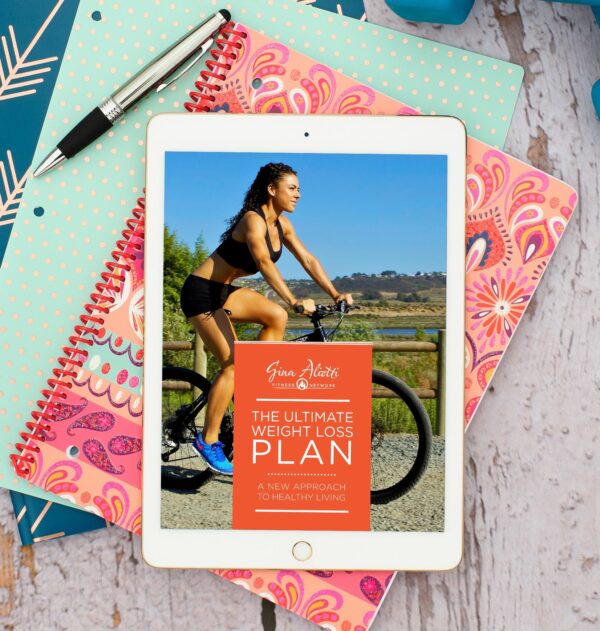 Ultimate Weight Loss Plan
Not sure where to start, how to shop, how to order out?? I have the perfect plan for you! My Ultimate Weight Loss Plan will help lay the foundation to the best you now, tomorrow and 5 years from now. People call The Ultimate Weight Loss Plan their "fitness bible", offering all the foundational tools to reach your goals and maintain them for life.
I'm often asked questions like, "What is ULTIMATELY the right Diet?" or "What's ULTIMATELY the right way to workout?". With thousands of diets, gyms, and fitness products on the market it seems people are always searching for the ULTIMATE way to reach their fitness goals. Well, my answer to these types of questions is simple…
WHICH EVER ONE YOU STICK WITH. In fact, I believe that almost all of the diets and products out there CAN allow you to reach your goals if you stick with them. So the real question is, "Why is it so stinking hard to stick to these programs"? Well, let's try this quick experiment.
Ask yourself, "Which diet, fitness products, or programs that you're aware of can you do for the rest of your life?"
Can you see yourself at 80 years old still on that XYZ Diet or using that Super Ab Widget 1000?
If you answered NO to both of these questions, then you have the solution to why they don't work and probably never will…. They were never meant to last and so at some point you were bound to give up on them. But what if I told you that there's was an ULTIMATE (and totally bitchin') program you could stick with for the rest of your life…
What if I told you that the SECRETS in this program were the same ones that all those hard body beach babes have used…
I'm going to give you 5 underlying SECRETS that those tight, toned, sexy body people all possess (and you can too).
1) It's a priority– Successful people in any endeavor have simply made their goals a top priority. They'll often choose getting in a quick workout or making the right food decisions over other things.
2) Fitness is part of their identity– We all identify with something… There's Bill- the world traveler , Nancy- the shopaholic, Maria-the culinary genius, Craig the scientist etc. In any case, the more someone practices something the more they and others identify them with that thing. Until eventually it is WHO they are.
3) They have higher expectations for themselves– Let's face it, as people we are often comparing ourselves to others. So when it comes to our bodies, successful people will compare themselves to other fit people.
4) They enjoy being lazy and eating junk food– I've found that even the fittest people enjoy relaxing in a comfortable chair and savoring some delicious treats. But the difference is they don't consider that a failure, but rather a reward for their hard work. They use these instances as motivation to work harder to enjoy their next reward. (Think Chocolate Fudge Brownies)
Before I reveal the SECRET #5 (the biggest one), I need to explain something.
A Coppery Titi Monkey (yes they exist, you can Google it) can be taught to eat good and workout. So those aren't the issues we face. It's having the motivation, consistency, and patience to do it over and over again. It's about developing the mindset from an inside out approach! Which leads me to secret #5…
5) They haven't learned the right way either– Even the fittest of the fit are constantly trying new workout tactics and diet techniques. They realize that it's a lifelong journey that will continue to evolve.
Which brings us to the ULTIMATE solution… We have to develop the right mindset to lead a consistently fit and healthy lifestyle. So how can you implement these secrets into your own life? How can you develop the same mindset to achieve ULTIMATE fitness success?
WARNING:
IF YOU ARE AFRAID OF CHANGE AND NOT READY TO EMBRACE A NEW LIFE THEN DO NOT PROCEED
I have developed (over thousands of hours) an inside out approach to achieving your fitness goals. I know that you already have it within you to accomplish your dreams. You are already a FITNESS SUCCESS. We just have to bring it to the surface so the whole world can see.
With my Inside-Out approach, you'll develop that important mindset to not only achieve that Head Turning body, but to keep it for the rest of your life. I've used this approach (with Tremendous Success) on all of my clients for years. You can read numerous (I promise these are legit) client testimonials as proof…
This really WORKS!!!
Increase your Energy and Stamina!
Increase your Self-Esteem and Confidence!
Develop an Optimistic Attitude and Magnetic Personality!
All while achieving the Body you've always DREAMED of!
When I began to see how well my program worked with my clients I grew increasingly more excited to share it with other women. But I only have so many hours in a day and can take only so many clients….
That is until NOW! I've taken all the methods and strategies that I've used on hundreds of my clients and compiled them right here for you. I am absolutely THRILLED that you found the ULTIMATE WEIGHT LOSS PLAN and I can't wait for you to begin your NEW LIFE.
P.S. I usually charge much more for this program during my one-on-one consulting. Therefore, this download will only be available for a limited time. I really want to share this with everyone, but I can't undercut my consulting fees for too long.
PLEASE CLICK BELOW AND ENJOY YOUR JOURNEY.
WAS $299, $199, $99
Check out what other people on the
Ultimate Weight Loss Plan

are saying…
Gina, I bought your Ultimate Weight Loss Plan last week and I just have to say – it's life changing!!! I absolutely love it and know it's what I've needed for so many years now. I've hired many coaches in the past and, although their plans were great, I failed on them every time from the lack of variety to the constant stressing about every gram of macro in each meal. This is the first time I've felt relaxed and comfortable with my transformation. Thanks again for putting this plan together – I'm so excited about the future now 🙂

~ Lyle

Gina, I never thought I could do it! Your Ultimate Weight Loss Plan has helped me and proved that Yes I can! Thank you so much for this life changing plan! You are the best!

~ Brock

I downloaded The Ultimate Weight Loss Plan and am starting today. I really love what I am reading and feel like this is my missing link to a lifestyle I can embrace. I've read everything out there and this short, sweet and uncomplicated…so easy to follow and very motivating. I feel like to was made for my personality, especially all of the motivational quotes and emphasis on goal setting. Love it!

~ Tracy L.

I took your suggestion and purchased your Ultimate Weight Loss Plan and am loving it so far. It's so nice NOT to eat the same meal everyday! Doesn't feel like I'm on a diet because I'm not. Its my lifestyle. I will continue following what I've learned through your book.

Thank you!

~ Janna C.

I have been trying to get back to my "football days" lol but haven't been able to get there! I found you on Facebook and checked out your website. I found your Ultimate Weight Loss Plan and it was just what I was looking for! It is helping me get my "Football body" back but most of all the confidence I had when I was young! Thank you for making this easy and effective! I love your plan!

~ Jeremy

I love the Ultimate Weight Loss Plan! I have told so many people about it! I continue to come back to how sound it is – no missing food groups, yummy, healthy and balanced! It's all in the name. I use to buy every diet book that hit the shelf and have since unloaded all of them. For someone who has been on a diet most of my life, that's a big load to get rid of!

~ Tracy L.

I love you and your program you have made this so much fun and have put myself at ease on a lot of things I'm kinda speechless with how I am enjoying every bit of this.

~ Michelle S.

I bought the UWL Plan on Christmas Day as a present to myself and I have read it now a couple of times. I just had a 3 hour flight and reread it. Seriously this is the most comprehensive guide for getting where you want to be – Gina has covered the mental aspect, the health aspect as well as a fantastic nutrition, cardio and weights guide. Seeing the quality of this manual and the Fitness Network totally convinced me to work one on one with Gina. I know that after my competition I have this fantastic resource to maintain a healthy balance.

Thanks Gina for creating the Bible on health and wellbeing! I'm recommending this to my family and friends and whoever will listen!!!

~ Jodie

I am up early in the UK and reading through more of your "Ultimate Weight Loss Plan" book I very kindly received as a gift from a friend. I am loving the book Gina!!! It is providing me with so many new & interesting ideas that I can easily adapt to & stick with. It is full of very helpful & useful advice & tips for a better lifestyle. I am sharing these with both my sister a mother of 3 & my guys are enjoying the read too. Thank You!

~ Ria A.

Saturday night fun~ Sitting at my kitchen table after having cleaned out my freezer of crap food, drinking water and reading the Ultimate Weight Loss Plan. LOL!!! It's awesome!!!!!!!!!! I cannot thank you enough!! ♥

…GINA!!! I seriously love this program. I have printed it out and take it everywhere! 🙂 I've modified some things because I had burned out a little on my protein powder (subbing in hard-boiled egg whites instead wherever protein powder is called for) and it's been awesome. I feel full, but not uncomfortable full and slowly but surely I've noticed my attitude toward food is changing. I'm listening to my body more and enjoying what I'm eating. I think this might all be in my imagination, but I feel like I'm looking less puffy and bloated. Again, thank you so much! I don't know what I would have done without this plan.

~ Megan E.

I want you to know how incredibly thankful I am AND how much your Ultimate Weight Loss Plan has help AND been incorporated into my "normal" walk of life!

~ Danitza
Save even more by purchasing two Plan Packages today!
Ultimate Women's Package (Ultimate Accelerated Plan + Ultimate Shred 365)
Buy Both Ultimate eBooks (WOMEN) for
Ultimate Men's Package (Ultimate Accelerated Plan + Ultimate Shred 365)
Buy Both Ultimate eBooks (MEN) for
Gina Aliotti's Ultimate eBook Package (Women)
Buy Both Ultimate eBooks (Women) for