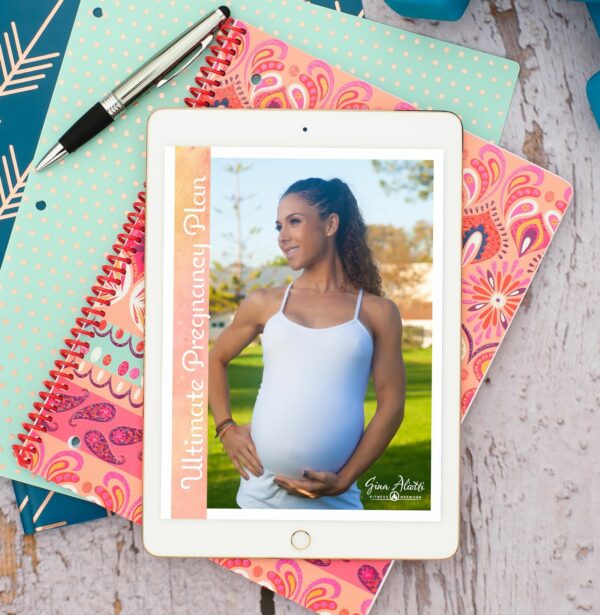 Only

$

99.00!
Ultimate Pregnancy Plan
Congratulations on one of the most amazing chapters of your life!! As you embark upon your pregnancy journey, I want to help guide you the entire way through! No reason to be scared or unsure of what's ahead! With my Ultimate Pregnancy Plan, I will walk you through each trimester and give you all the tools, tips and insight into what worked for me, for both of my incredible pregnancy experiences! I am so excited to prove to you that you CAN maintain your healthy and fit lifestyle, while growing your beautiful baby! There is no better time to take charge of your health, fitness and choices than NOW!!
Gain a piece of mind, Grow a healthy baby and maintain a healthy body composition throughout the next 40 weeks with my fully detailed Ultimate Pregnancy Plan!
Gina's Ultimate Pregnancy Plan is an all inclusive, easy to follow plan to walk you through your entire pregnancy and beyond, as you enter in to the world of motherhood…
Plan Includes:
10 UPP Meal Plans
Food Substitution list
Gina's Favorite Ultimate Pregnancy Recipes
7 Drinks & Smoothie Recipes
6 Breakfast Recipes
4 Anytime Dishes
6 Snack Recipes
5 Dessert Recipes
40 NO GYM Necessary Circuit Workouts to get you through your entire pregnancy, organized by Trimester (video demonstrations included)
4th Trimester tips and suggestions
4th Trimester Meal Plan
Mommy & Baby Must Haves
and so much more…
What you can expect from following Gina's Ultimate Pregnancy Plan?
Feeling hot and Confident throughout your entire 40 week pregnancy journey! Yes I said HOT, there is no reason you can't rock your baby bump with confidence and class!
Having a better understanding of what is normal and to be expected, throughout your journey!
A quick and easy come back post pregnancy!
Help maintaining Core Strength and abdominal integrity.
Concrete tools to carry with you throughout your pregnancy and after!
Freedom from wondering how you are going to fit into your clothes after you deliver your beautiful bundle!
Freedom from wondering what to eat, how much and how often.
Easy to follow, No Gym Necessary circuit workouts to help keep your body active throughout your pregnancy!
and so much more…
I would be honored to guide you along your amazing Pregnancy Journey! Get excited for the amazing chapters that lie ahead….
With the right plan, guidance and tools, you CAN have an incredibly healthy and balanced pregnancy journey WHILE providing your baby with the key nutrients and ideal environment to thrive both inside and outside your belly!
Check out what other people on the
Ultimate Pregnancy Plan

are saying…
I bought the UPP during your last sale not expecting to need it until fall. Well, God has other things in store for us! I'm on week 5 of UAP and just found out we are expecting. So just opened up UPP for the first time today. LOVE LOVE LOVE! I am so excited. I have a 1 and 3 year old and was not eating well and did not continue to work out during either of those pregnancies. I am in better shape now than I was before kids but still have a LONG way to go. I am sooo excited to have found you and your programs! I admit, I am ready for a change as far as diet goes. Excited about UPP meal plan. Love the circuits! Going to start them next week instead of doing week 6 of UAP. Just wanted to say thank you!

~ Jenny

Happy flex Friday. I am flexing my healthy 2nd pregnancy. I couldn't be happier with the fact that I found Gina before my second pregnancy. My 1st pregnancy I got huge, wasn't working out, had no energy, and this time around I am 35 weeks pregnant, don't have all the swelling I had last time, I have energy, and overall just feel better. I started my 1st pregnancy at 150 lbs and ended at 192 lbs. I started this pregnancy at 120 lbs. 🙂

~ Jeanette Brooke

I purchased Gina's pregnancy plan and utilised the circuit programs right up until 37 weeks pregnant. This is my third child and I was able to fit the exercises around looking after my other 2 children (age 4 and 2). I thoroughly enjoyed the workouts and felt that they significantly contributed to both my physical and mental health. My daughter was born at 38 weeks and I am back down to one size above normal, 5 weeks postpartum, and I have to in part contribute this to all the help with Gina's UPP. This definitely was different than my other pregnancies! Looking forward to moving onto Gina's UAP to continue my journey towards the best me postpartum. Thanks Gina.

~ Ruth Ramirez

I purchased Gina's pregnancy plan and utilised the circuit programs right up until 37 weeks pregnant. This is my third child and I was able to fit the exercises around looking after my other 2 children (age 4 and 2). I thoroughly enjoyed the workouts and felt that they significantly contributed to both my physical and mental health. My daughter was born at 38 weeks and I am back down to one size above normal, 5 weeks postpartum, and I have to in part contribute this to all the help with Gina's UPP. This definitely was different than my other pregnancies! Looking forward to moving onto Gina's UAP to continue my journey towards the best me postpartum. Thanks Gina.

~ Mari Duffy

When I found out I was pregnant, I knew one of my top priorities throughout my pregnancy was to stay as healthy as possible and to make sure I was eating right for me and my baby. I purchased Gina's UPP several weeks in, in my 1st Trimester and I was so anxious to start it. I stuck with it, MOST days throughout my pregnancy…some days I was lucky enough to get a shower & put clothes on, haha. My husband and I wanted the Lord to surprise us with the gender of our baby, so on October 24, (almost 3 weeks early) our sweet Harper Lynn was born at 6 lbs., 9 oz. and 19 inches long. I have to credit my active lifestyle over the years, Gina's plan & encouragement, the support of my husband & my doula, and my faith in God for helping me have a natural and drug-free birth! I can honestly say that Gina's plan helped me TREMENDOUSLY throughout my pregnancy to stay in the best shape possible and help me stay under my set "goal" of 30 lbs. I only gained 29 lbs. throughout my entire pregnancy and less than a month later, I was only 1.2 lbs away from pre-pregnancy weight! I can't wait to be an example and teach my daughter about living healthy throughout working out and eating right. Thank you so much, Gina!!! Your plan, communication, and encouragement throughout my pregnancy is SO appreciated! I can't wait to continue on with the UAP!

Thank you again for everything!!!

~ Kim

This was my second pregnancy working with Gina and I am SO happy with how my journey unfolded. I cannot thank Gina and her plans enough! Thank you for keeping me healthy, in amazing shape and able to have a smooth delivery! I only gained  11.5 pounds and 3 weeks PP am already below my starting pregnancy weight. I couldn't be happier with the results. THANK YOU Gina!

~ Melanie N.

Hey Gina! Just wanted to share this with you. I went to my doctor after monitoring my blood sugar for the last 5 days. Due to my fasting blood sugar being too high, they told me today that I am considered gestational diabetic for this pregnancy ☹️ I met with the diabetic counselor. She has a naturopath background and when I showed her your UPP, she said don't even pay attention to what I am going to give you, this is PERFECT! Where did you get this? Just thought you would like to know that. She also said my daytime blood sugar is great, so it's not from my diet. So thankful! Everyone should have this plan, So much useful info at such a steal of a price. Thank you for making this! ❤❤ Vada

~ Veda Cooke
Add the UAP to continue your postpartum journey