Low Carb Lasagna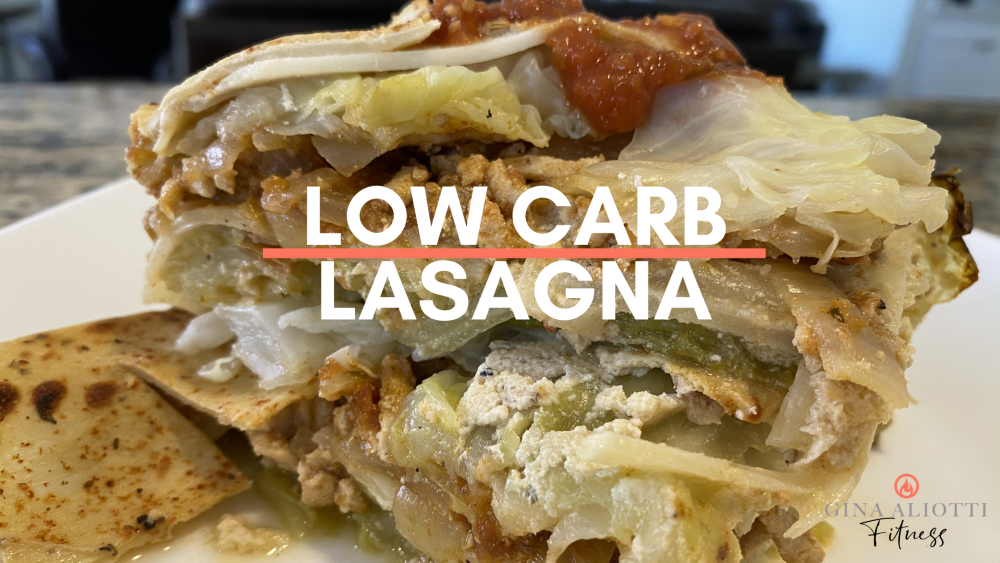 Ingredients:
-1 pound 99% lean ground turkey
-1 head cabbage
-1/2 onion, diced
-1 can Palmini Hearts of Palm Lasagna noodles
-1 clove garlic, minced
-1/2 Tsp salt
-1/2 Tsp pepper
-16 oz salsa of your choice
-1/2 egg whites
-6 oz 0% Greek Yogurt
-1/2 cup nutritional yeast
-1/4 Tsp crushed red pepper
-1/2 Tsp garlic powder
-1/2 Tsp onion powder
-1/2 Tsp Oregano
-1/2 Tsp Basil
-1/2 Tsp Parsley
*Optional 8 oz shredded Almond Cheese or low fat Mozzarella Cheese/Parmesan(9 grams/serving)
Directions:
Preheat oven to 375 degrees F. Bring a large pot of water to a boil. Cut the cabbage into quarters and cut the stem off and place into boiling water. Boil for 10 minutes or until outer leaves look translucent and tender. Drain and set aside to cool.
Spray non-stick cooking spray in pan then add onions, garlic, salt and pepper and sauté. Once translucent, add turkey and continue cooking. Add ½ of salsa and continue sautéing. Set on low and allow to simmer.
In a bowl combine Greek yogurt, nutritional yeast, egg whites, and remaining seasonings Mix well and set aside.
Lay cabbage leaves to cover the bottom of a baking dish. Then add hearts of palm lasagna noodles over top. Spread half the yogurt mixture over leaves/noodles. Spread half the meat mixture over the yogurt. Lay more cabbage slices and hearts of palm over the meat and repeat again with the rest of the yogurt and meat mixture. Finish with the final slices of cabbage and hearts of palm. Top with remaining salsa. Bake for 30 minutes covered then uncovered for 10 minutes. Give it a quick 5-minute broil if you like a crispier topping. Serve and enjoy!
Serving Size: 4
*One serving can be subbed for any lean protein + veggie meal on ANY meal plan. 
*If you add cheese, sub for 1 serving protein + 1 serving Fat on ANY meal plan.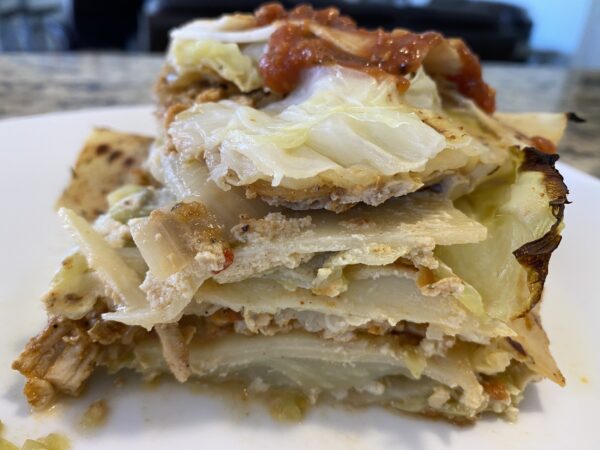 For hundreds of recipes just like this, download the G-Fit App and Never diet Again!