These Low Carb Almond Pancakes are perfect for lower carb days! These are a signature recipe in both the UAP and US365.  We all love our pancakes and they make for such a quick and simple meal!! Don't have a ton of time, no problem, just take them on the go!!
Using Almond Meal (I use Bob's Red Mill) allows for a lower carb version of one of our favorite meals! 🙂 If you don' t have almond meal, you can simply blend up raw almonds! Just be sure not to blend them too long that they turn into almond butter 😉
G-Tip: Make these into one single pancake OR I love to use my mini pancake pan to turn this recipe into 7 mini pancakes!  Mini feels like you are eating more! 😉 It's all these little tricks that keep you on track!
Eating Clean doesn't have to be bland and boring!! Eat your way towards the best you!! Check out my Ultimate Accelerated Plan HERE!
x0x0
Gina
Ingredients:
-1/4 cup almond meal (Bob's Red Mill is the one I use)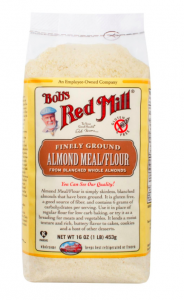 -1 scoop Vanilla Protein (I used Devotion Nutrition Angel Food)
-2 egg whites
-1/4 cup water
-1/2 tsp baking powder
Directions:
In a large bowl, simply mix all ingredients until fully combined and makes a "batter like" consistency. Warm a sauté pan with non stick cooking spray (I used coconut oil spray) and cook for about 3-4 minutes on each side, until golden brown.
Serving: 1