Gluten Free Flax Bread
Bye Bye Bread NO More….
Bread use to be a major part of the everyday diet however there has been a shift and now it is seen as one of the foods you want to stay far away from. With gluten intolerances and the desire to stay away from processed foods, people are doing whatever they can to stay away from bread. Even what use to be considered the healthy bread options such as whole grain or whole wheat breads aren't considered better options. With a large part of the population gluten intolerant or wanting to follow a gluten free lifestyle, bread is pretty much out of the modern day diet. Bread is also higher in carbs so not a common food for those following a lower carb diet. Regardless of what diet or nutritional plan you are on, I am sure you are like me, and crave a good 'ol piece of bread from time to time. There is nothing like a fresh and delicious sandwich piled high with all your favorite ingredients!
There is no reason why you can't still indulge in a warm piece of fresh bread or your craving for a sandwich! It is about finding ways to still enjoy the foods you love by finding and creating recipes that work for your specific dietary needs! There are so many alternatives that taste just as good as regular bread, if not better, and don't cause a spike in blood sugar or contain gluten. Not to mention, so many options offer more protein, fiber and good fats than your typical slice of everyday bread! Check out my Gluten Free Flax Bread that only contains 1 gram of net carbs, 6 grams of protein and 5 grams of fiber per slice!! This recipe is a great base for any type of bread you are craving! You can add any spices or herbs to create whatever type of bread you are in the mood for! If you want more of a savory flavor, add a tablespoon of rosemary or italian herbs. If you are in the mood for more of a sweeter bread, add cinnamon and a bit more stevia for a yummy treat! Adding bananas or berries to the mix also adds great flavor and freshness! Don't worry, you can still have your bread AND reach your goals!! Give my Gluten Free Flax Bread a try and let me know what you think!!
Gina's Gluten Free Flax Bread
Ingredients:
2 cups flax seed meal
1 Tablespoon baking powder
1 teaspoon salt
2 Tablespoons stevia
5 beaten eggs
1/2 cup water
1/3 cup coconut oil
Serving Size: about 12 slices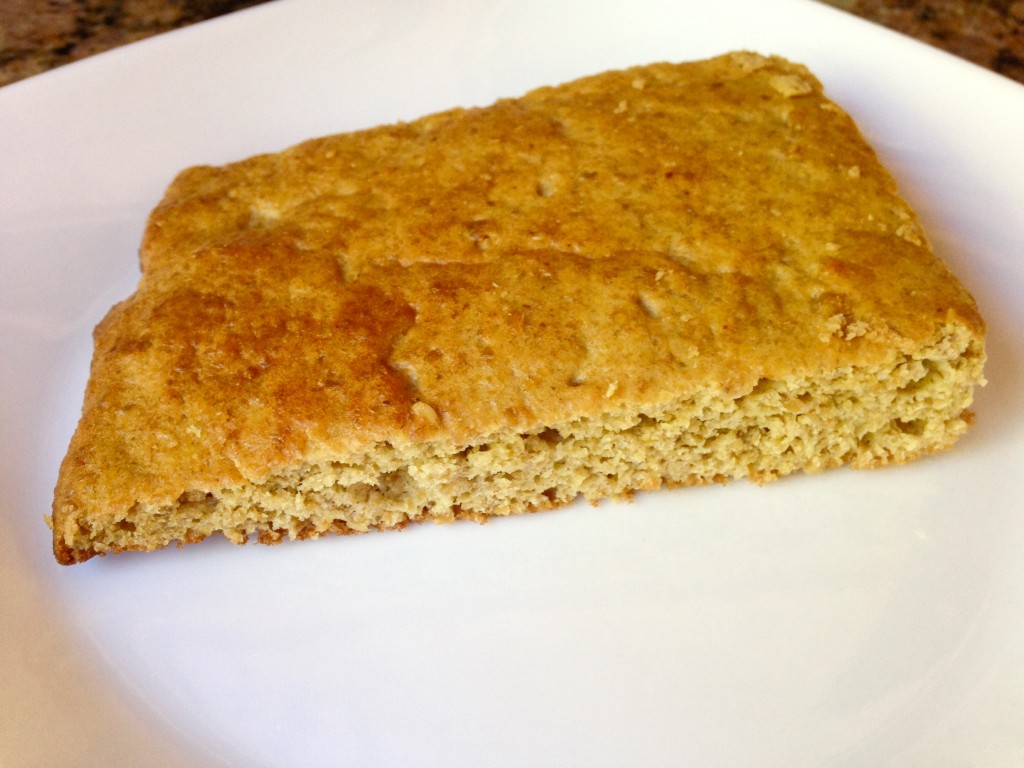 Directions:
Preheat oven to 350 F. Prepare pan with non stick coconut oil (a 10X15 pan works great)
1) Mix dry ingredients well.
2) Separate egg whites from yolks, mix egg whites until they become frothy, best to use a hand held mixer.
3) Add wet to dry and combine well.
4) Let batter set for 2 to 3 minutes to thicken up some.
5) Pour batter onto pan, spreading it evenly.
6) Bake for about 20 minutes, until golden brown
7) Cool and cut into 12 slices.
ENJOY!!!
Nutritional Breakdown
180 calories/slice
Fat: 13 grams
Saturated Fat: 6 grams
Carbohydrates: 6 grams
Fiber: 5 grams
Net Carbs: 1 gram
Protein: 6 grams