Food Find: Julian Bakery Carb ZERO Bread
Yes, you can have your bread and eat it Too & STILL reach your goals with this Carb Zero Bread! Loaded with 9 grams of protein, zero net carbs and only about 50 calories per slice!!
            Because of its high fiber content, oat fiber is equal in both fiber and carbs; canceling out those pesky carbohydrates to create a rich and fiber hearty bread that won't raise your blood sugar.
So what IS in CarbZero Bread?
Carb Zero is a blend of Purified Water, Certified Gluten Free Oat Fiber, Psyllium, Egg White Protein, Organic Olive Oil, Organic Apple Cider Vinegar, and a pinch of baking soda.
–gluten free
-yeast free
-sugar free
-dairy free,
-soy free
-gmo-free
-guilt free and Gina Approved!! 
INGREDIENTS:
Oat Fiber—Oat fiber is high in fiber, low in cholesterol, and has no affect on blood sugar. Additionally, our oat fiber is made with certified organic, gluten-free, non-GMO oats, making it the perfect addition to any gluten-free diet.  Studies also show that beta-glucan that is in Oat Fiber has beneficial effects in diabetes as well. Type 1 & 2 diabetes patients given foods high in this type of oat fiber had stabilized blood sugars throughout the day. That's why Carb Zero bread is ideal for diabetics and all customers in the morning as it can help them all day long.
Psyllium— Derived from plants, psyllium has extremely high fiber content, and several studies have indicated that a diet containing fiber from psyllium lowers cholesterol. In fact, research also indicates that "psyllium incorporated into food products is more effective at reducing blood glucose response than use of a soluble-fiber supplement that is separate from the food." What does this mean for you? Benefits from fiber for your stomach, and the added potential of some assistance to your blood too, making psyllium an ideal fiber to shape and mold a flat stomach.
Egg White Protein—Looking to build lean muscle while knocking out fat? Then this is the bread for you with 9g of protein per slice derived from egg white protein for maximum muscle building potential. Egg whites contain no fat or carbohydrates. Additionally, egg white protein is labeled a "high quality protein," meaning that it is "rate well on the PDCAAS (Protein Digestibility Corrected Amino Acid Score)—the most accurate measurement of a protein's quality." Having trouble digesting traditional proteins? Egg white protein is one of the easiest to digest—making this high protein bread an easy way to meet your protein needs.
Olive Oil— The health benefits of moderate olive oil consumption are bounding. From potentially lowering cholesterol levels and low-density lipoprotein cholesterol levels, blood sugar, and insulin level control; the natural olive oil in CarbZero adds a rich and flavorful layer of texture. Rich flavor, and health benefits? Sounds good enough—but there's more! During research, olive oil consumption has also been linked to colon cancer and heart disease prevention.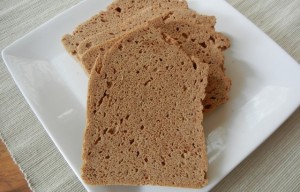 Comes in Regular OR Cinnamon and can be found at www.JulianBakery.com.