Creating Habits to LAST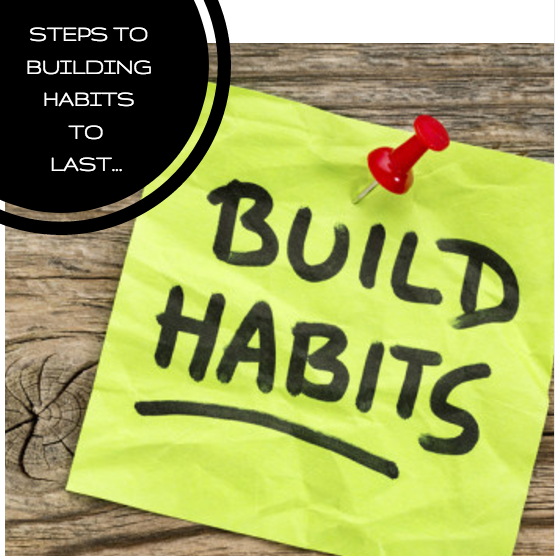 With the start of our NEW MAY Challenge, this weeks mantra is about creating LASTING Habits. What are the steps to create lasting habit vs. temporary habits? We all struggle with our habits — getting started is 1/2 the battle then staying motivated to continue with our efforts. If we want to make a change in our bodies and life, we must change our habits.  So how do we do this and what are the steps to ensure success?
We can break it down and keep it SIMPLE (my life mantra)! First step is starting with being COMMITTED To making a change! PROUD OF YOU because if you are here and reading this, you are COMMITTED!! If you are NOT committed, you are more likely to fall off. THAT IS THE POINT OF THESE CHALLENGES… To make you commit and stay focused!
-ONE THING AT A TIME. Another one of my favorite mantras I LIVE BY, ONE THING AT A TIME. We will focus on just one thing, one small thing we are trying to change. How small? SMALL. Adding in 3 minutes of meditation or unplugging or even getting in our 10 minute challenge for the day. That's it! If you don't have 10 minutes, focus on something even smaller like 10 push ups.. Just commit to "DOING IT". Put on those shoes and GO or turn off that phone and unplug! Do it.
-REMOVE CHOICE.. Don't think about it. Commit and that's it. THINK LESS AND DO MORE. Once you Commit (COMMIT TO OUR CHALLENGE HERE) . Make up your mind and DO IT. Our monthly challenges are perfect because they allow you to have that month focus. You can do anything for 30 (31) days. They say it takes 3 weeks to create a NEW Habit so — it's a WIN WIN.
Do it every day at the same time so it becomes routine and just what you do… brush teeth, get dressed, DO OUR CHALLENGE (or however you want to work it into your day). By doing this, when you don't commit, your day just isn't the same, almost like you left the house without your purse. This will help something become a thoughtless effort.
-ACCOUNTABILITY. Have at least one person you report to, a TRIBE of people that are doing the same thing as you is HUGE in helping you stay on track! A group of friends all working towards a similar goal can be the missing variable to your success. . You are much more likely to push yourself past resistance when challenges comes up. THAT IS WHY OUR FACEBOOK GROUP PAGE IS HUGE to ensuring success!
-MAKE IT FUN!  Remember this isn't a chore, it is a choice and one YOU chose because you want to change your life! With our monthly challenges, we are keeping it FUN and FRESH, much more likely for you to make this a thoughtless effort. When you don't have to think about it, that is when you know it has become just a part of your life, who you are and what you do!
-COMMIT!  Remember your WHY! You need to have your concrete WHY in order for you to fully commit. Remember you are doing this for YOU!  When you are doing it for YOU, you are much more likely to COMMIT.
These are steps to ensure success on our challenge but also with whatever habit you are aiming to add to your life.
You can do this! Remember, Success is all about the SMALL things you do on a DAILY Basis. Remember to SMILE along the way and have fun! Let's Do THIS!
Don't forget to submit your BEFORE photos (holding challenge calendar) and COMMIT HERE to be in the running to be a challenge winner and WIN $200!
Bring on those Sexy Shoulders and BOOTYful Buns!