Here we are again, Back at it without a gym and with limited weights and still getting it in! Check out my NO Excuse Garage Workout of the day. Get outside and get yourself moving! There really is No Excuse! Join me in my Back and Butt Circuit of the day. Go through Each Exercise then repeat the circuit 2x. Dig Deep and focus on that mind-muscle connection. Have FUN!
REMEMBER THE BODY ACHIEVES WHAT THE MIND BELIEVES! ~Lorna Jane
BENT OVER ROWS-20 REPS
Hold a barbell with a reverse grip. Stand bending over with your chest pushed out, core engaged and arms full extended. Keeping that nice arch in your back, row pulling the barbell towards your belly button, squeeze your back, hold at the top then repeat the movement.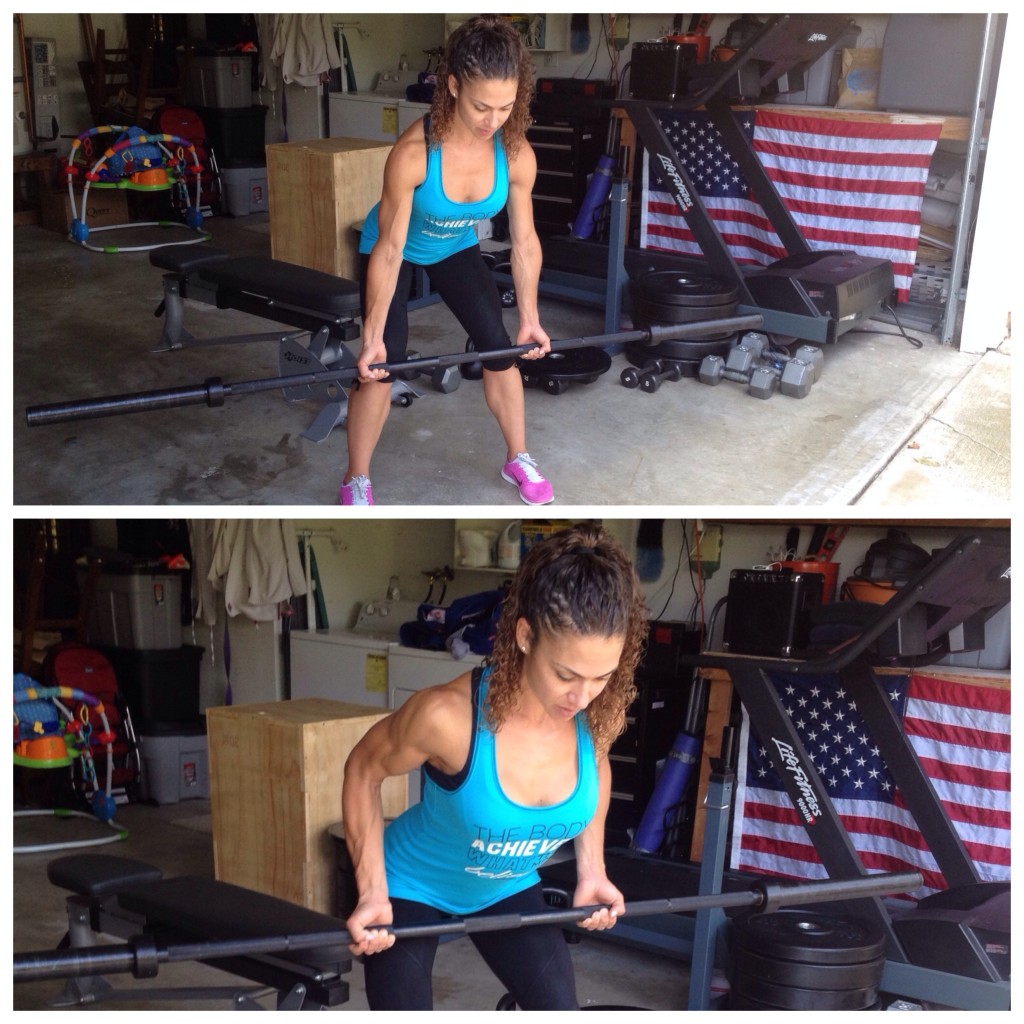 OFF THE BENCH BUTT THRUSTS-20 REPS
Start with your feet on the ground and back against a bench. Place a barbell, plate or if you are a beginner start with no weight at all. Lower your glutes (butt) towards the ground then squeeze your glutes and thrust your hips towards the ceiling. Hold for a few seconds at the top then drop down to starting position and repeat.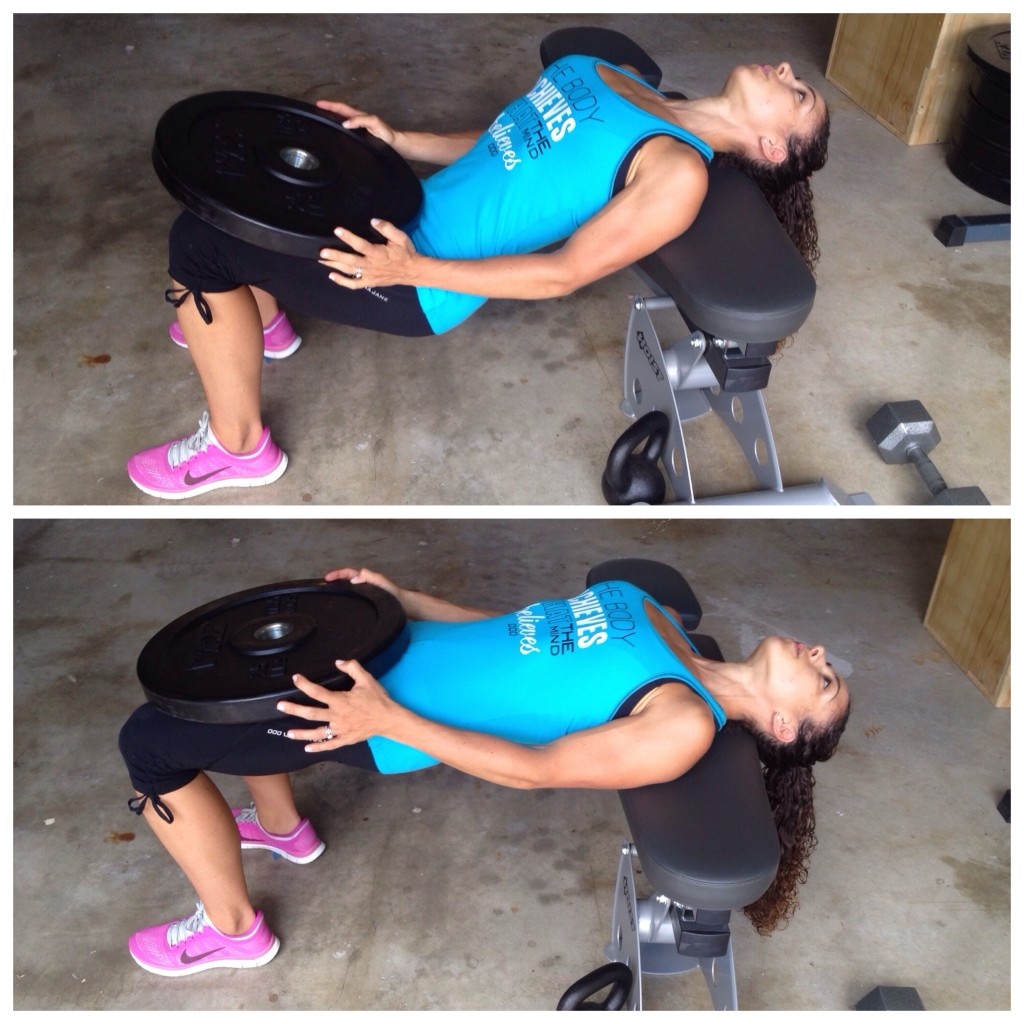 KETTLEBELL ONE ARM ROW-15 REPS ON EACH SIDE
Place one knee on a bench and other foot flat on the ground. Grab a Kettlebell with the same side as your grounded foot and other hand secure on the bench. With your chest out and knee knightly bent, fully extend the Kettlebell to the ground. Once fully extended, row up, driving your elbow towards the sky and keeping your arm close to your body. *Remember your core is engaged the entire time and your chest is pushed out with shoulders back.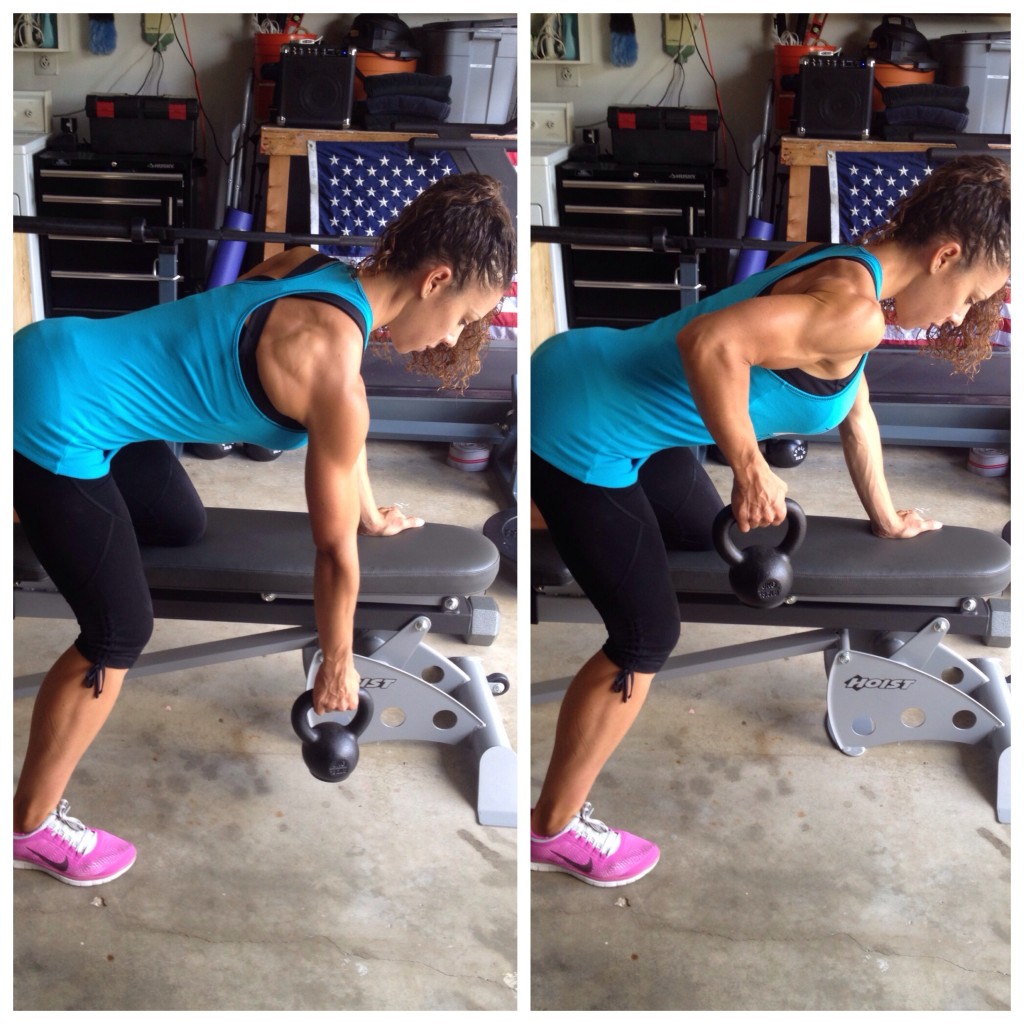 PULSE SQUATS-30 REPS
Get in squat position and pulse from bottom of squat to mid squat and back down, never coming all the way up. Drive with your heels and feel the booty burn!!!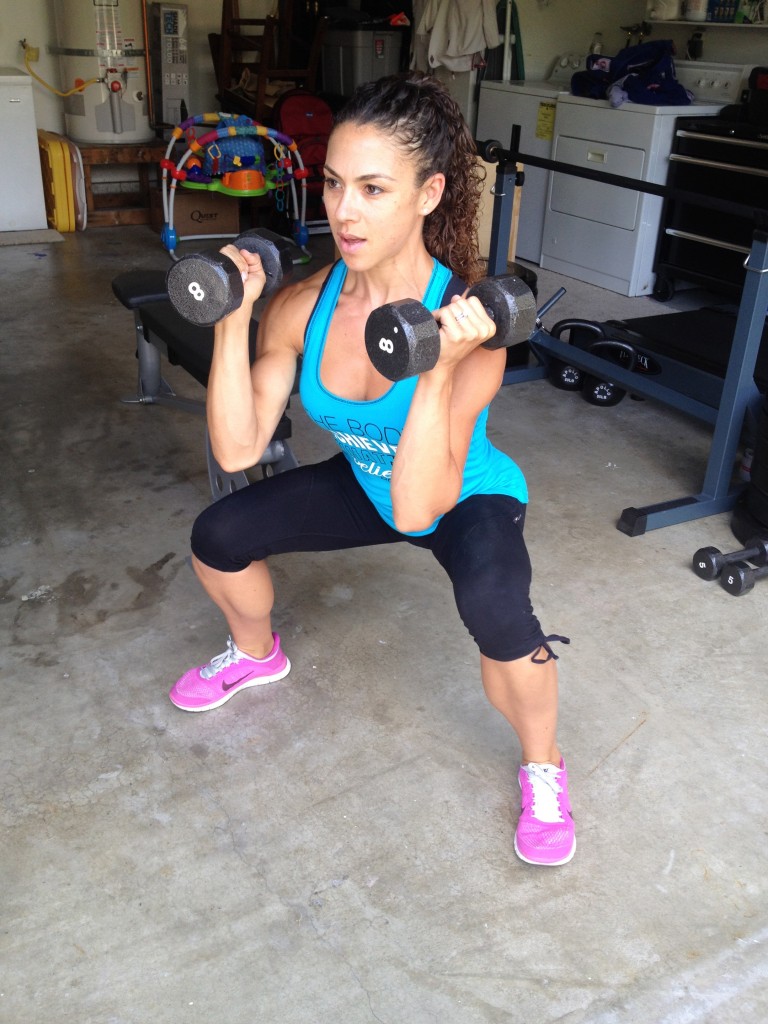 RENEGADE ROWS-10 ROWS ON EACH SIDE (ROW LEFT, ROW RIGHT = 1 REP)
Start in the Push Up Position with feet wide and holding dumbbells in each hand. Perform a push up off the dumbbells then once you are in the top of a push up position, row with one hand, release back to the top of a push up then row with the other hand and repeat the exercise (Push up, row R, row L, Push up, repeat…)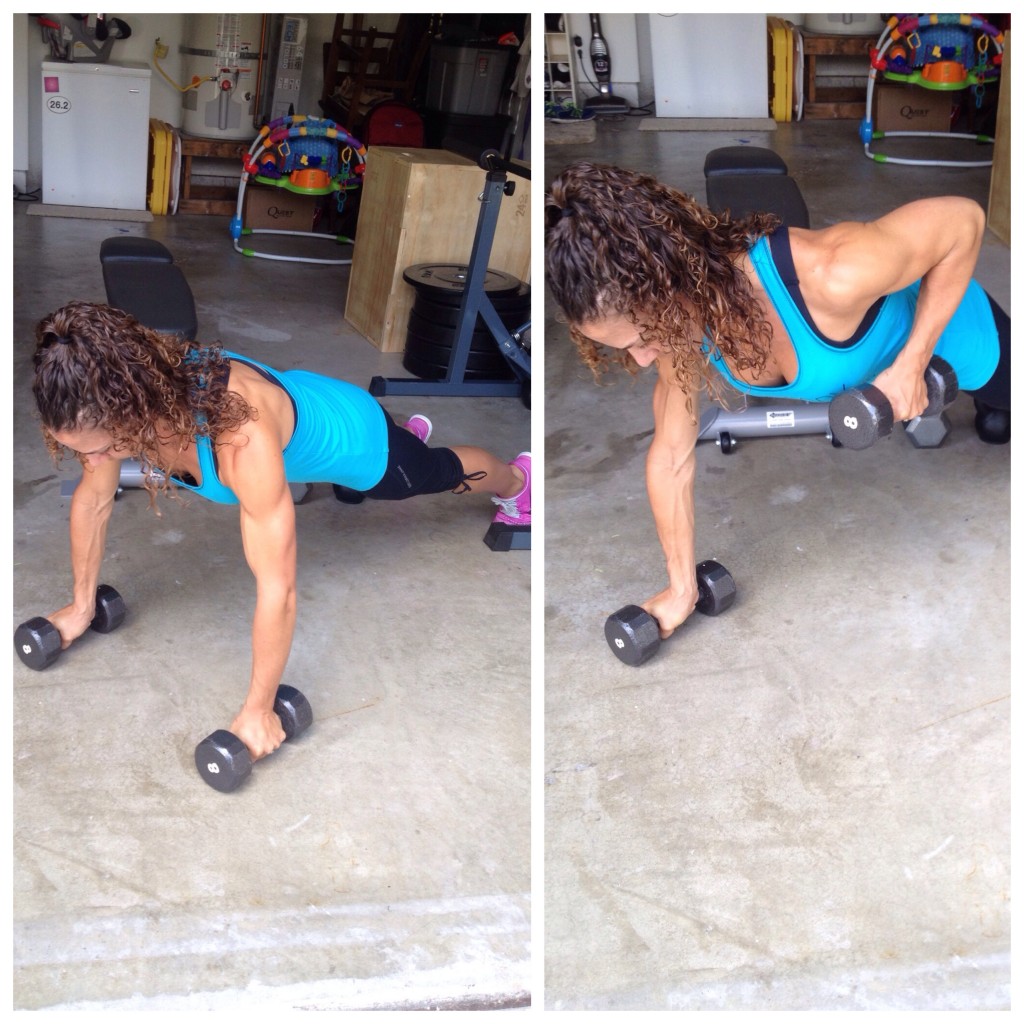 STRAIGHT LEG DEAD LIFTS-15 REPS
With your feet just over shoulder width apart, start holding a dumbbells or a barbell. With your chest out, abs tight, and knees slightly bent, lower towards the ground until you feel a nice stretch in your hamstring muscles. Engage your glutes and hamstrings then slowly bring yourself up to the starting position and repeat exercise. If you feel any tension in your back, don't come up as far. You should feel all the tension in your glutes and hamstrings. *If you are having a hard time feeling it in the glute/hamstring tie in, only come up about 45 degrees then lower back down. Feel the burn! 🙂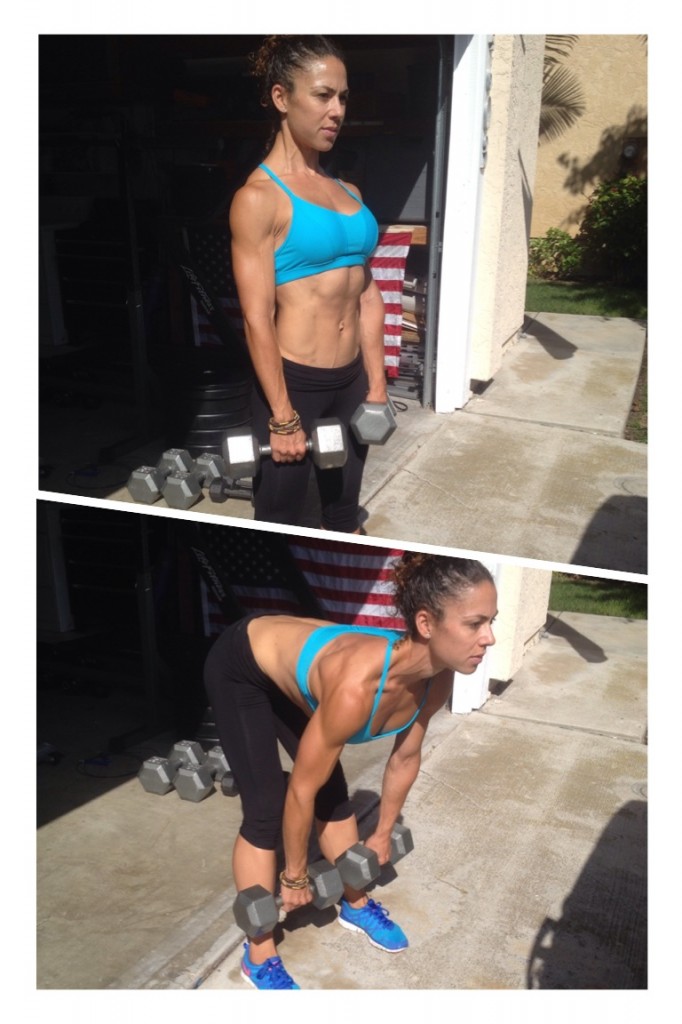 For Daily Home Workouts and to workout together LIVE Join My VIP HERE. Get 6 weeks FREE to get yourself started and seeing results! See you inside…