CONGRATULATIONS To our Winners! The success stories were absolutely amazing and it was SO hard to pick just 3 winners! Congratulations to everyone who completed our 6 week Challenge! Keep digging deep, this is just the beginning and a taste of your true potential! SO SO proud of all of you!
#1 Stephani Austin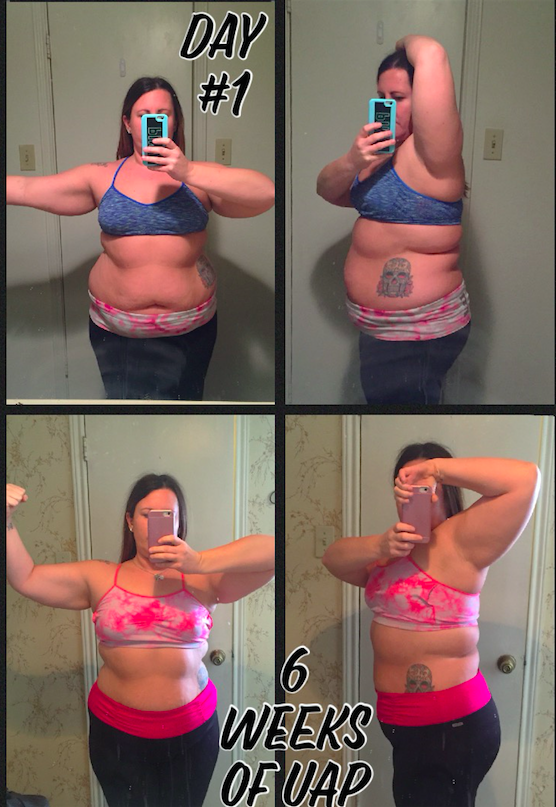 No one can do the work for you. No one can want it for you more than you want it for yourself. It took me a year and 2 separate rounds of the UAP challenge to figure this out. I have been overweight my whole life, I have also worked out most of my 20's but now in my mid 30's it's not about being skinny, it's about being strong and healthy. I struggle with a food addiction. I can eat when I am not hungry solely because the food tastes good. I love carbs and sugar. These things have become apparent to me over the last 6 weeks, the revelations I have had have been mind-blowing. This year for the challenge something just clicked, I was focused, determined and dedicated. While I had done UAP the year before, I was not dedicated and in turn, did not see the results, which then left me frustrated and in no better place than I was when I had started. This year though as I began to see the results, I began to crave them more and more. I was determined to succeed this time. I have lost 14.6 pounds, and numerous inches during the 6 weeks.
I have plans to run my first ever 5k in the next month, as well as travel this summer to some State and National Parks in Texas where I live and do some hiking and biking. In addition to continuing my journey physically, I am going to run 2 rounds of the 7DBB followed by another round of UAP. Ultimately I have another 30 pounds I would like to lose, but I will tackle that in small, achievable goals.
I am forever thankful for the program that Gina has created. Not only is it easy to follow, it is healthy, adaptable for a busy lifestyle and comes with the best support system in the online groups. I have found myself sharing posts I would NEVER share with others, but feel so safe in the group. Women's empowerment is really what it is all about. Thank you Gina and Dana for all you have done, you have forever changed my life. I am Devoted for life. – Stephani Austin
#2 Alethea Carswell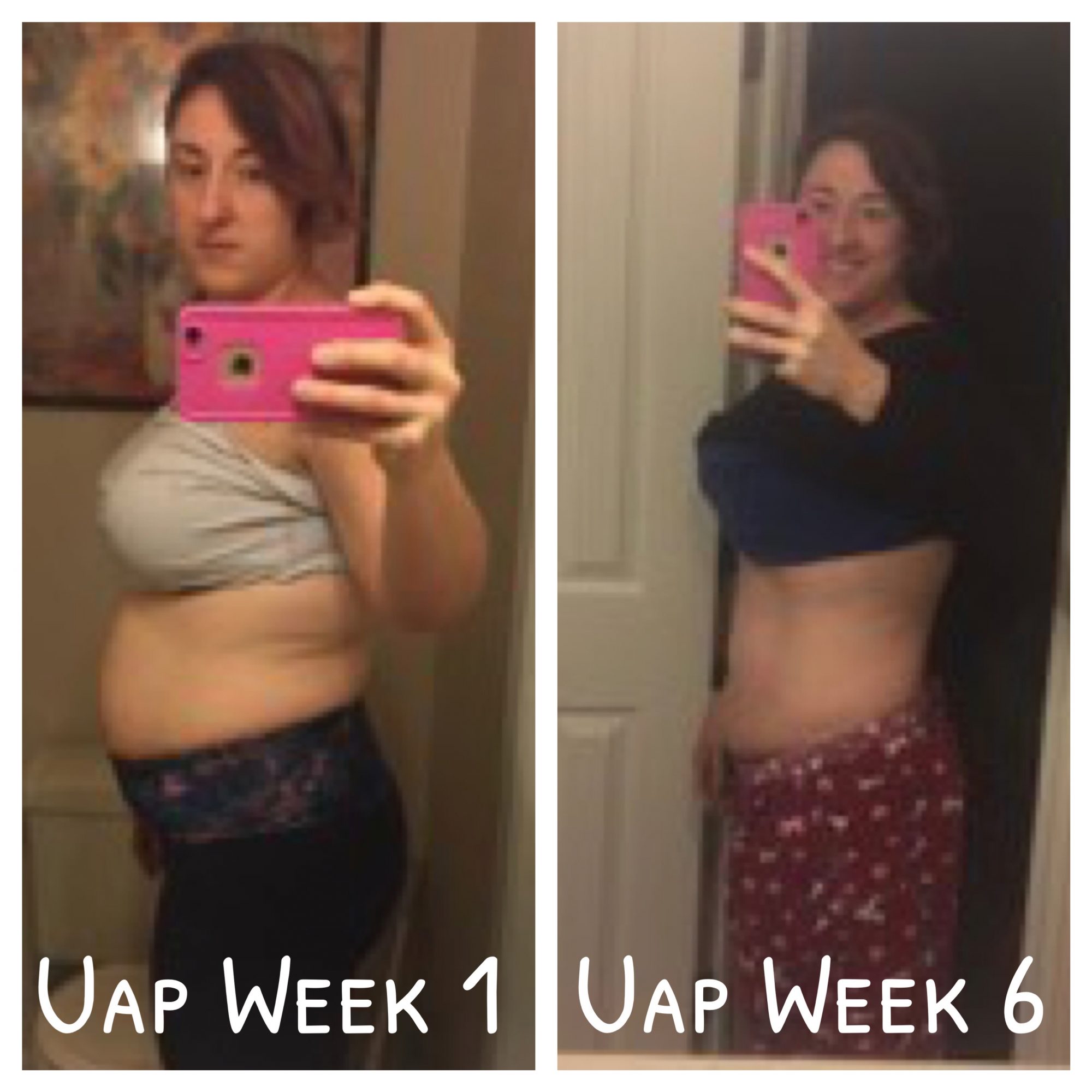 Click HERE for Alethea's Video Testimonial 🙂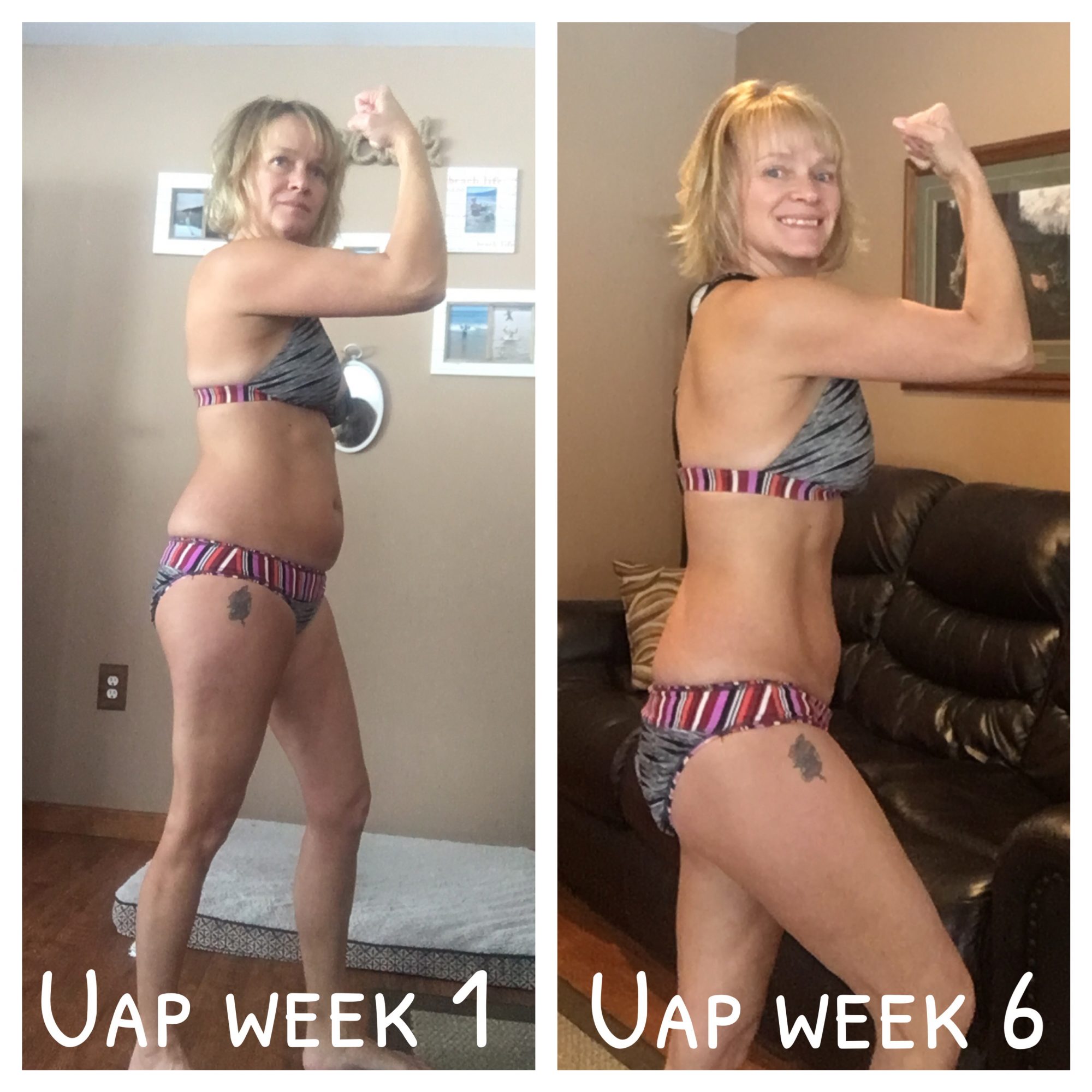 #3. Anita Miller Mawdsley
Hi Gina! I am here to talk about my amazing, fabulous 6 week UAP challenge journey that just ended, I have to say I am somewhat sad that it has come to an end but very excited about continuing my fitness journey and this new way of life that I am learning to lead. I have had your UAP program for about 3 years and have tried and failed at completing it a dozen times, never really being able to fully embrace the program, my biggest obstacle for me has always been the meals, now I can eat the 6 meals a day easy but the prepping was a disaster for me and so not being prepared I always ended grabbing what was easy or right in front of me. Two major things have helped me overcome this 1st was your VIP program that you started and 2nd was your devotion and flex flavors, what a game changer that was! But the VIP wow what an incredible group and with you actually doing your "lives" and pretty much inviting us into your life and home and showing us so many wonderful ideas and making this so much easier and your daily workout videos, it is like you are right in my living room guiding me along. Your tips and mantras have been amazing! It is truly astounding the difference learning about "mind/muscle" control can make during a workout. Another wonderful thing is the daily posts on the VIP page, reading peoples accomplishments along with their frustrations makes this so much more real by knowing that you are not alone in all of this. The constant people (the Scotties and Janet's and multiple others) that you see every day makes you say "ok I better get a moving!" I thought it would be painful to "give up" my favorite foods (like creamer in my coffee) but I have learned that those things were my crutches in life, by giving those things up I now feel more free than I have felt in a long time. One other thing that helped me was taking videos and photos of myself, by actually watching the results unfold in front of me helped light a fire that just keeps burning stronger, when you actually look at a photo and say "is that me? Is that actually a little muscle I am seeing?" I am so excited to keep moving forward, I plan on purchasing the 365 the end of this month and of course staying with this incredible VIP group that has truly changed my life, I can't wait to see me in a year from now!! I have learned to love myself again, I have learned to step outside of my comfort zone and try new things but the best thing of all is that in the last 6 weeks I found my smile again. Thank you Gina from the bottom of my heart you are truly and wonderful human being! –  Anita Miller Mawdsley
PRIZES:
1ST PLACE:
2 tubs of Devotion Protein Powder
3 Boxes Flex Flavors
Devotion Hat
Devotion Shaker Bottle
Dig Deep Motivational Bracelet
Dig Deep Tank Top
Monthly 45 minute Consultation with Gina throughout the rest of 2017! 
10% off Code for ALL Devotion Nutrition Products for ALL of 2017!
2ND PLACE:
1 tub of Devotion Protein
2 Boxes Flex Flavors
Devotion Hat
Devotion Shaker
Dig Deep Tank Top
Single 45 minute phone consultation with Gina
10% off Code for ALL Devotion Nutrition Products for ALL of 2017!
3RD PLACE:
1 Tub Devotion Protein
1 Rainbow Box Flex Flavors
Devotion Shaker
SPECIAL TANK FROM GINA
10% off Code for ALL Devotion Nutrition Products for ALL of 2017!