09/11 Update
It has been a few days…  I'll start by saying that today is a memorable day, being 9/11. Such a day that we ALL remember and a day that we will never forget! With my husband as a fireman, I feel even more touched to the families who lost their loved ones and to those who sacrificed their lives! It is a day we will never ever forget and a day that will always bring sadness to our hearts!


I have been real busy traveling to Santa Barbara, last weekend, working,  and trying to baby my injury. Unfortunately I am not doing well and am hardly walking 🙁 I feel so bummed that it is this early in my pregnancy and am already really having to take a back seat! LESSON: even if your mind is in the game, you have to check yourself and know when your body clearly isn't. Being 5 months pregnant, carrying weight that it is not use to, ligaments changing, stride changing, internal anatomy changing, basically EVERYTHING changing and shifting in ways I am not use to, my body is just different which means my workouts have to be different! There was not a moment that I felt pain or know exactly when my injury happened but I know it is a combination of my body changing and I am not able to do what I use to be able to do. Now I just want to walk. I will tone things down, take things to the bay and pool but I am just hoping to be able to walk without pain soon! I have taken 2 full weeks off cardio, gotten back into the pool, which has been great and pain free and am getting in a few upper body weight workouts. I am going to stick to this regimen, even when I am recovered, fingers crossed it is soon!!! I have started going to a chiropractor and will continue going throughout my pregnancy to keep everything in alignment. With the chiro care, stretching, rolling, rest and time, I am really hoping to heal pretty quickly!
Lessons learned throughout our journey, we never keep learning that is for sure!!
While we were in Santa Barbara visiting family, we enjoyed some good workouts, tasty food. Even though I am in pain, I did what I could, listening to my body and mostly doing upper body. I brought my Exercise Playing Cards with us so we were able to use that, with modifications 🙂 We took a trip to Solvang, a small Danish town, which was fun! We grabbed lunch and walked around. I enjoyed my first Salami sandwich since I was a kid. It sounded delicious and it sure was. Even had it on sourdough over wheat. Just was craving this exact sandwich. It was actually quite healthy, removing the mayo and with only lettuce, cucumbers, tomato, bell peppers, mustard and salami! 🙂 Yummy!
Fun in Solvang 🙂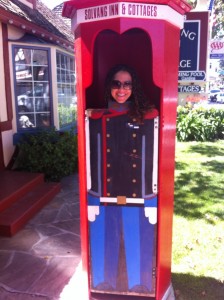 We enjoyed a few family dinners that hit the spot. It is so nice having a healthy family that all eats the same, makes it easy to travel and feel good while away from your kitchen. This was one of our delicious dinners:
salmon topped with fresh crab, roasted zucchini, onions and bell peppers and a side of kale! 🙂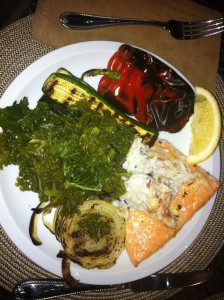 Other than my injury, things are going great! I am still feeling awesome! Still a tiny baby bump that I swear I can hide if I really want to but loving being able to still fit in my clothes, well at least almost fitting in my clothes 😉 Time is flying by and already 22 weeks on Thursday.
Here is a rundown of my day and meals today:
Meal #1 (3:30 a.m.) 1/2 cup oatmeal and proteins shake
Meal #2: 7:30: same as meal #1 with blueberries
Meal #3: PF Changs Chicken Wraps with Brown Rice
Meal #4: No Carb Protein Pancakes

Meal #5: 99% Lean ground turkey and roasted Zucchini & Squash
Meal #6: Protein Shake with Chia Seed
Workout of the day: SWIM: 42 Laps With kick board
Until tomorrow… night night
Gina