08/19 weekend update
Hello Everyone! What a relaxing weekend! I took the whole weekend OFF from cardio and a mini mini circuit on Saturday. I planned on doing cardio today, as my goal is 6x/week but I woke up and was extremely exhausted. I had clients at 10 a.m., which I usually don't have on the weekends but I make exceptions 😉 I was going to do cardio before but listened to my body and was just beat! I woke up at 4 a.m., ate meal #1, went back to bed, with the intentions of getting up but honestly was so tired. I felt like I could sleep ALL day! I went to the gym for my group posing session with the girls then believe it or not, came home and slept for a few more hours. I was exhausted! Unless you have been pregnant or are pregnancy, you really can't explain this feeling of exhaustion! I am going to start my week fresh tomorrow… 🙂
Here is a cute picture from our posing session today, me with the girlies! 😉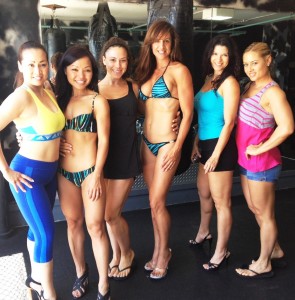 Saturday, I had a great day and was able to get out and get some sun! I went to the bay with my dog and was able to catch some Vitamin D for a few hours.

Other than feeling tired, here and there, I am doing great. Really feeling good and watching my body continue to change, lol! My belly is still tiny but seeing the "ball" form a bit more. I think if you didn't know me, you still wouldn't be sure if that was bloat or belly! 😉
Today was completely OFF and here are my meals for the day…
Meal #1: 1/4 cup oats, 1/4 cup wheat bran, 1 scoop protein, mixed berries
Meal #2: 1 scoop protein, 1/4 cup oatmeal, 1/4 cup pure pumpkin
Meal #3: 7 egg whites
Meal #4: 4 oz salmon & salad
Meal #5: 2 pieces Julian Bakery No Carb Bread French Toast (2 egg whites, cinnamon) topped with pure pumpkin
Meal #6: Tilapia with cabbage Sauté/Nori Wraps
Meal #7: Protein Shake with Chia seed
Until tomorrow for a high energetic start of the week!
hugs, Gina