All of your fitness and wellness needs in one place.
Everything you need to get in the best shape at any age. No gym and minimal time needed. Download the G-FIT APP Today!
DOWNLOAD NOW
What if working out from home could be
easy
because it fits your lifestyle?
The G-Fit APP makes working out from home realistic, easy, and
achievable
 for the busy woman!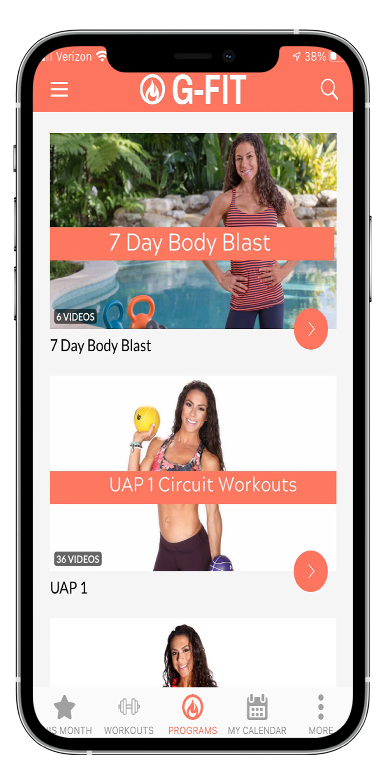 Sweat, Strength, Flow
Workouts to make you sweat and build strength. Yoga flows and stretching to keep you flexible and balanced.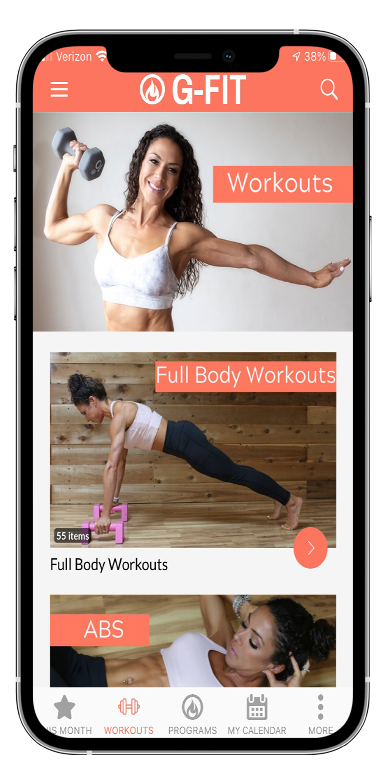 Anytime, Anywhere
G-Fit on the go! Stream 24/7 or download to your device for immediate access. (WiFi not necessary!)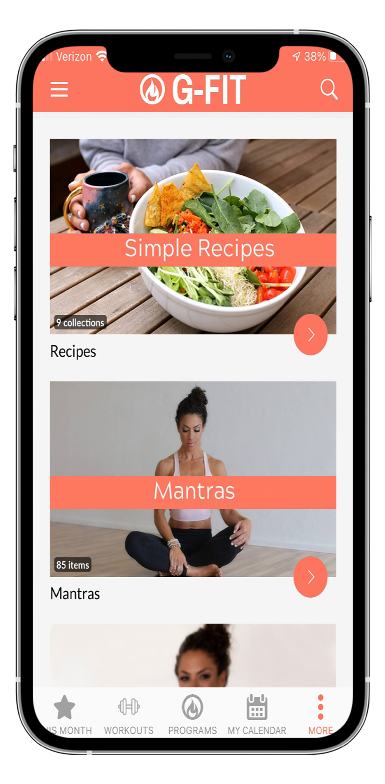 Meal Plans & Simple Recipes
Never Diet Again with Gina's Effective Carb Cycling Formulas. New Diet released each month.
The Secret to Achieving Your Results, doing LESS!
With the Gina's unique approach to working out, you will see how REALISTIC it is to fit in your workouts. An approach that will strengthen your body AND mind, so you will love the way you look AND feel – keeping you coming back for more!
Have fun with exclusive monthly programs and community challenges that get you results, on your schedule!
Never Get Bored Again
Feel excited to workout again with over 100+ on-demand videos in a variety of body part specific, full-body workouts or yoga flows to balances your mind and strengthens your muscles – while boosting your confidence! Adaptable for every level and need. NEW VIDEOS ADDED EVERY MONTH!
Boost Your Metabolism & Ditch Dieting forever!
Nutrition is EVERYTHING! Download your monthly Nutrition Plan using Gina's Carb Cycling Formulas that will deliver results without restricting you from macros. See how you can stay lean ALL YEAR long using Gina's formulas. Take the guess work out of what to eat, simply download and follow the plan!
Mindset Hacking
Building your body is more than how you workout and eat… The foundation begins in your mind. Learn all the tools that will help you breakthrough mental barriers and keep you showing up day after day with weekly mantras (audio). Members say this is the first thing they look forward to every week!
Flexible Accountability At Your Fingertips
Stay on track with the in-app calendar OR schedule your own workouts ahead of time, get reminders, and log your progress. Follow the monthly workout schedule or pick a workout your body's craving. Simply open the app and hit "Play"! 
Connect with your G-Fit Tribe!
Connection & Community is everything! Members say our Private Support Group is the highlight of the app! Get 24/7 support from like-minded motivated, inspirational women from all over the world just like you! Plus you get direct access to me with weekly LIVE sessions. We're doing this together! 
What Our G-Fit Members Are Saying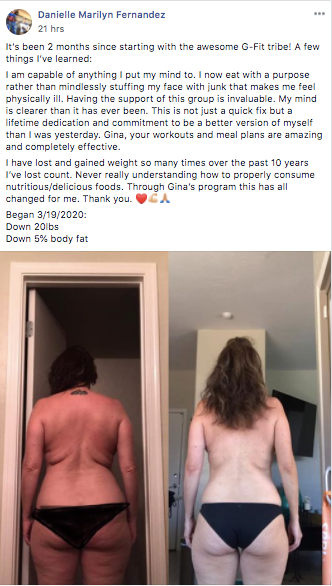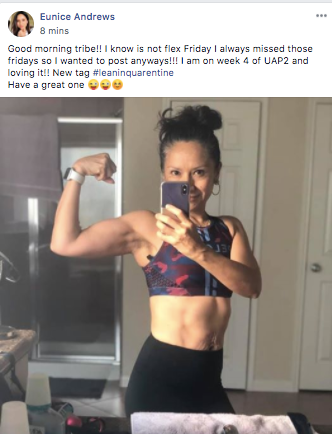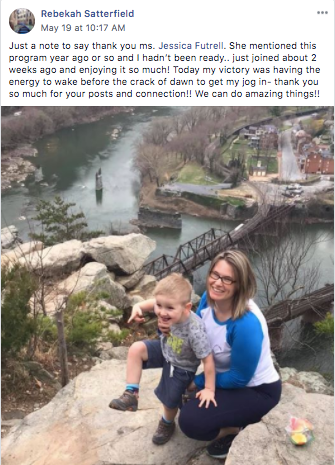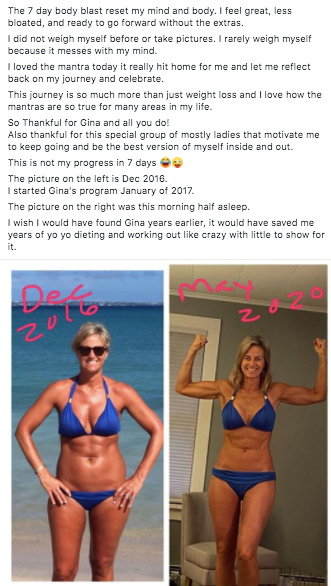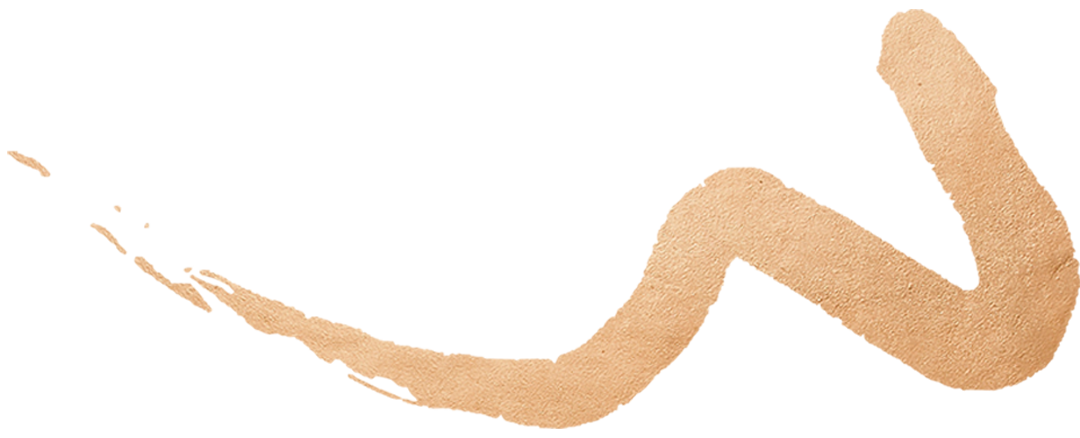 Quick, Effective Home Workouts, Monthly Challenges & a Community of Support
Get TOTAL ACCESS to 300+ on-demand workouts, exclusive challenges, monthly nutrition, private group access, and so much more…
WITH G-FIT YOU WILL:
Follow along the monthly workouts or schedule your own in your in app calendar.

Download the monthly G-Fit Diet to keep your body shedding fat and increasing lean muscle.

Access 300's of workouts from Sweat, Strength and Flow for a well balanced strong & lean body.

Gain confidence knowing you have a plan laid out for you each and every day!

Stream videos or download directly to your phone.
Simple Effective Recipes

Simplify your Habits and remove frustration from your fitness game.

Get Amazing Support From Gina & The Entire G-Fit Tribe!

Easy To Follow Video Workouts Designed To Bring Results in LESS time.

Weekly Mantras [Audio] to keep you motivated and showing up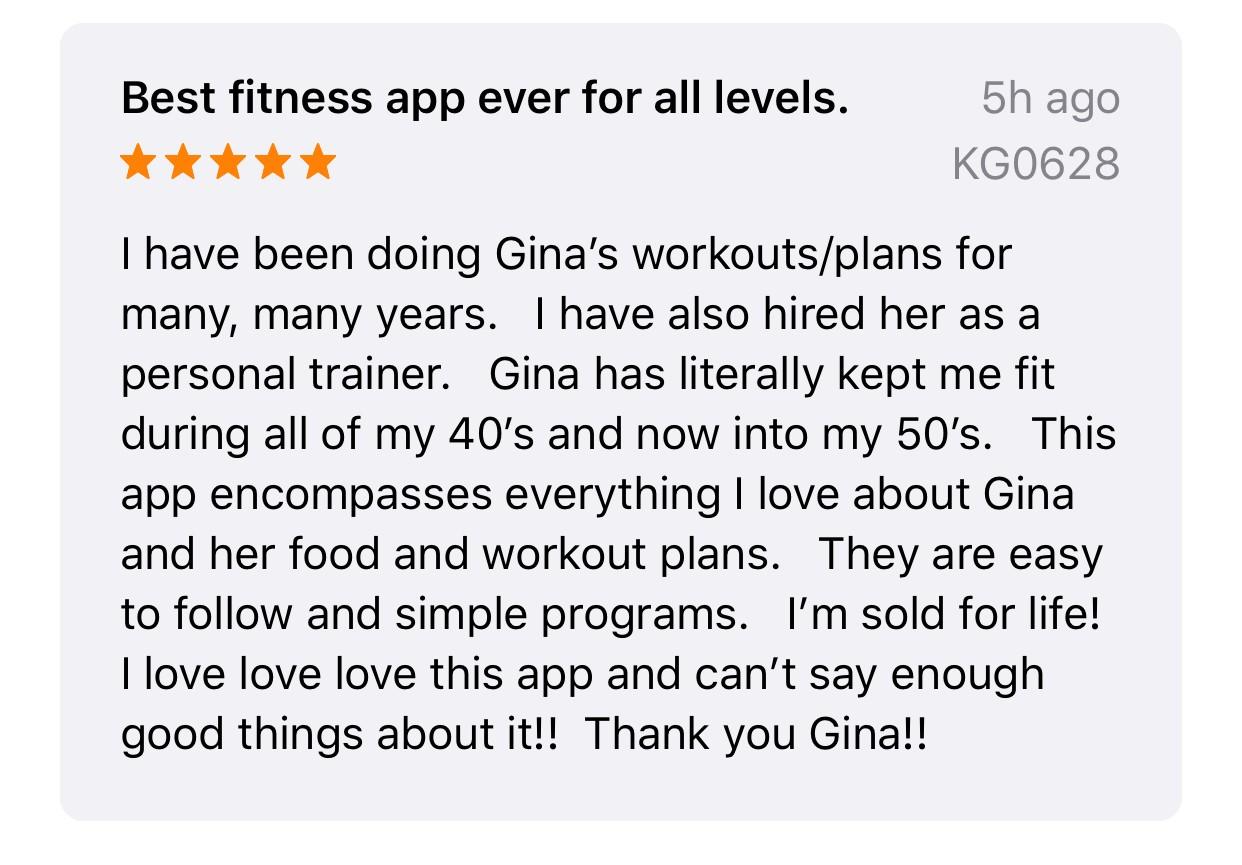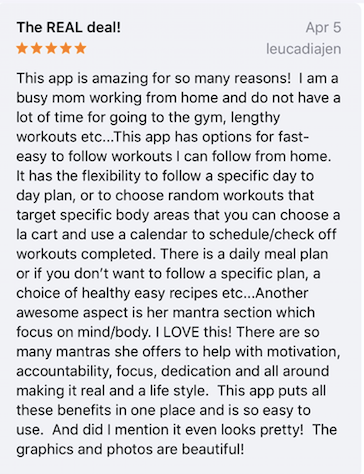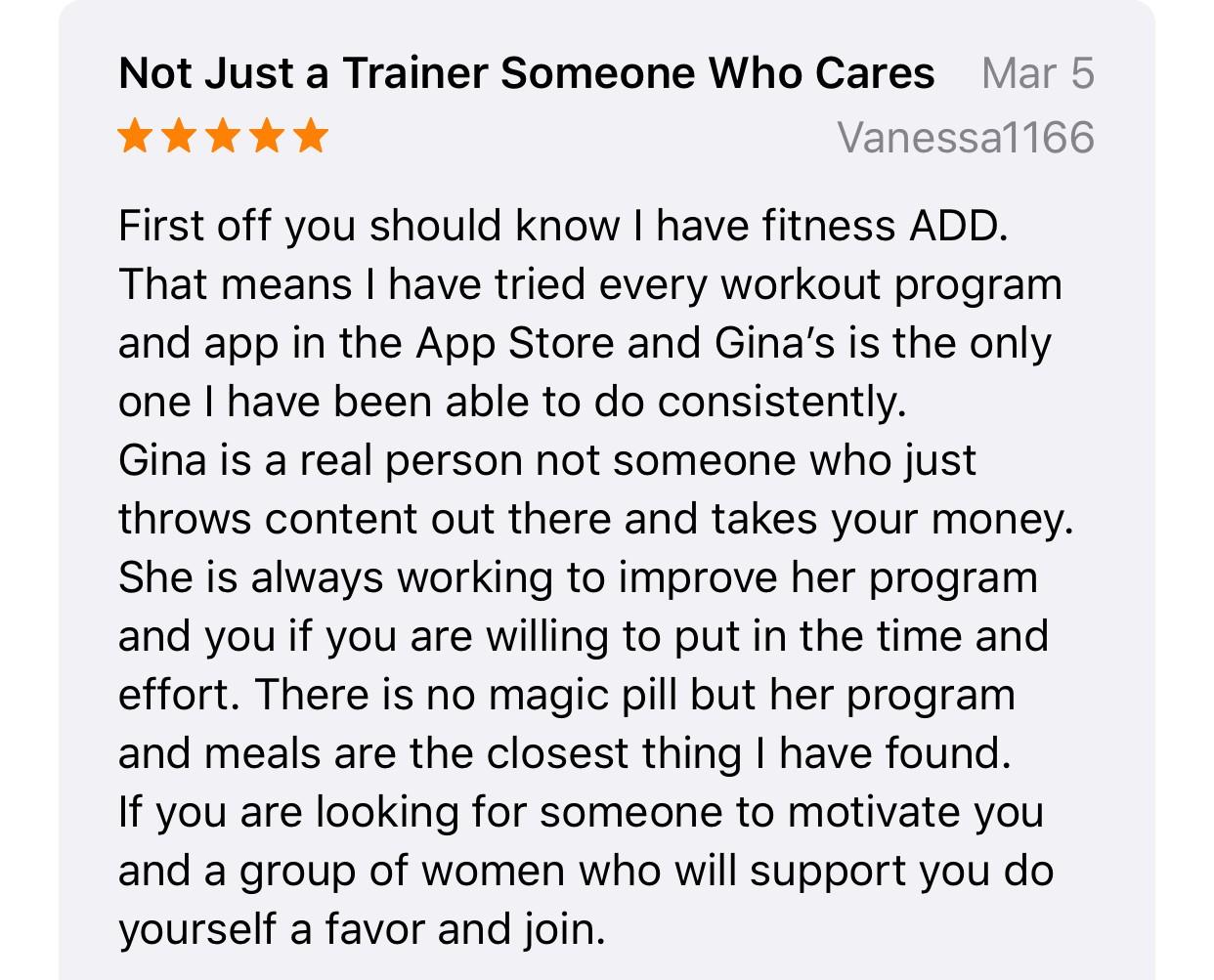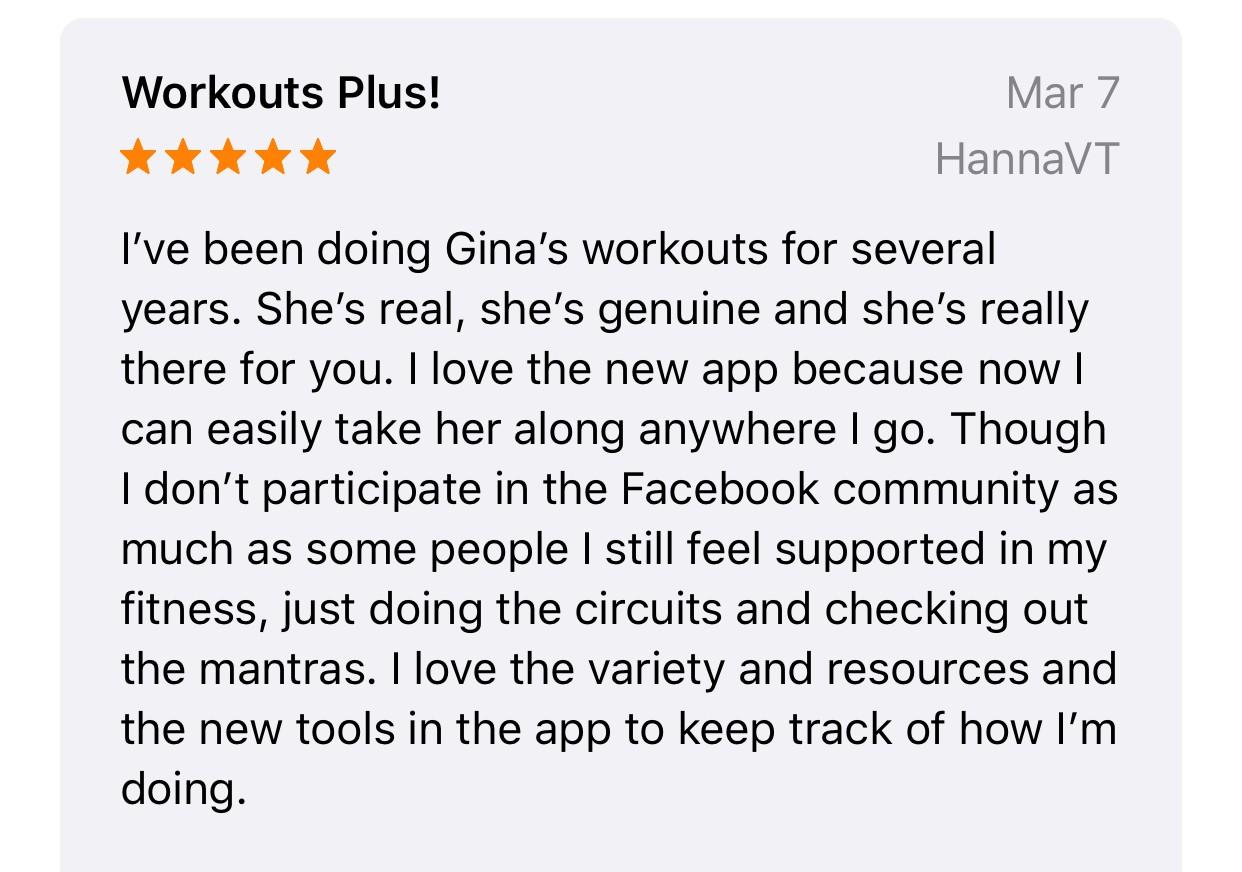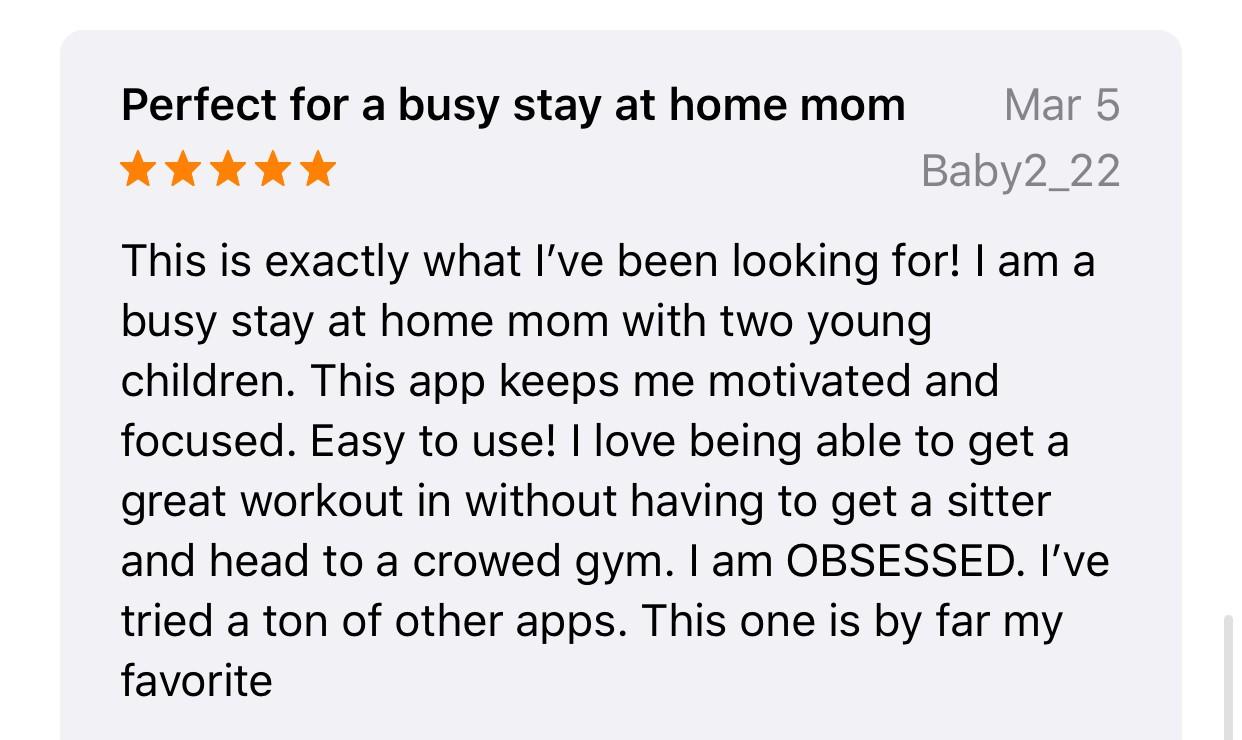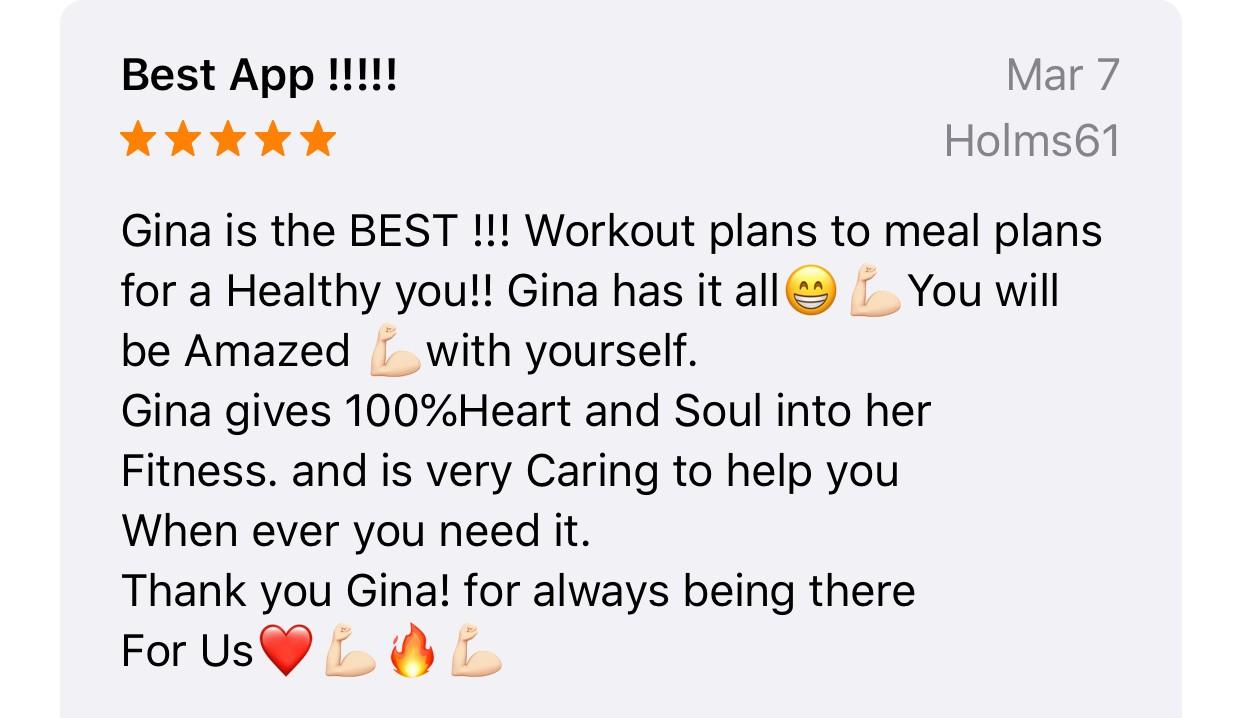 What equipment do I need to complete the workouts?
We keep it simple with your essentials. If you have a pair of dumbbells you are GOOD! Bonus equipment would include a booty band, yoga mat and exercise ball however modifications are always mentioned. With a few small pieces of equipment, you will have everything you need to get in the best shape, from home!
Eventually your home gym will look like this but until then all you need to do is get a pair of dumbbells and show up.
Can I cancel anytime?
Absolutely, there is no set commitment. I encourage you to take advantage of the 7-day free trial and see if it is for you. You have nothing to lose and so much to gain…
What if I don't have Facebook and try to stay off social media?
No problem at all. While the G-Fit Tribe is the most authentic and supportive group around I understand if you wish to stay off social media.
EVERYTHING is within the app and all Facebook live replays are recorded and uploaded in the "more" section of the app so you can still take part in them, just not live.
You can always set up an account to use just for the G-Fit Tribe if you wish. The girls are amazing, and their support is incredible. When you are surrounded by those that have similar goals, it helps to elevate your results. Social media is NOT necessary just a big added bonus.
I am new to working out, will I be able to do the workouts?
Absolutely!! The beautiful thing about the G-Fit workouts is they are for all levels. I will coach you along the way with variations and modifications depending on your level. You will be surprised how quickly you learn and become a G-Fit Pro!
Are all of your programs available within the G-Fit App?
All of the workouts from all of the programs are hosted within the app under the "programs tab" however the play-by-play weekly nutrition and actual e-books are sold separately. However, as a G-Fit App member, you do get discounts on all programs.
What is the difference between your e-books and the G-Fit App?
The downloadable programs/e-books are a one-time purchase and allow you to follow along at your own pace…They have been around for a long time and produce the most incredible results.
Consider the G-Fit APP your deeper dive into the G-Fit lifestyle. It hosts hundreds of home workouts, recipes that go along with the plans, motivation through weekly mantras, challenges we rock throughout the year. Consider it your virtual platform for all of your G-Fit needs. It is a community and hosts everything from monthly challenges, weekly mantras, recipes, and unlimited support.
Most within the G-Fit App most or all the plans I have offered over the years however you do not need to have a downloadable program to rock the App. It is a very user-friendly interface that will deliver results + all the support and motivation to keep you going throughout the year.
Download the G-Fit App and get a FREE 7 Day trial here.